A Distributed Approach to the Broadband Network Gateway
High bandwidth and low latency applications are pushing for service intelligence across the broadband network. UfiSpace's open broadband network gateways (BNGs) provide a distributed and software defined approach for deploying BNG services. Deployed in Europe's largest broadband networks, our broadband network gateways have demonstrated its capability to maximize service scalability and provisioning efficiency.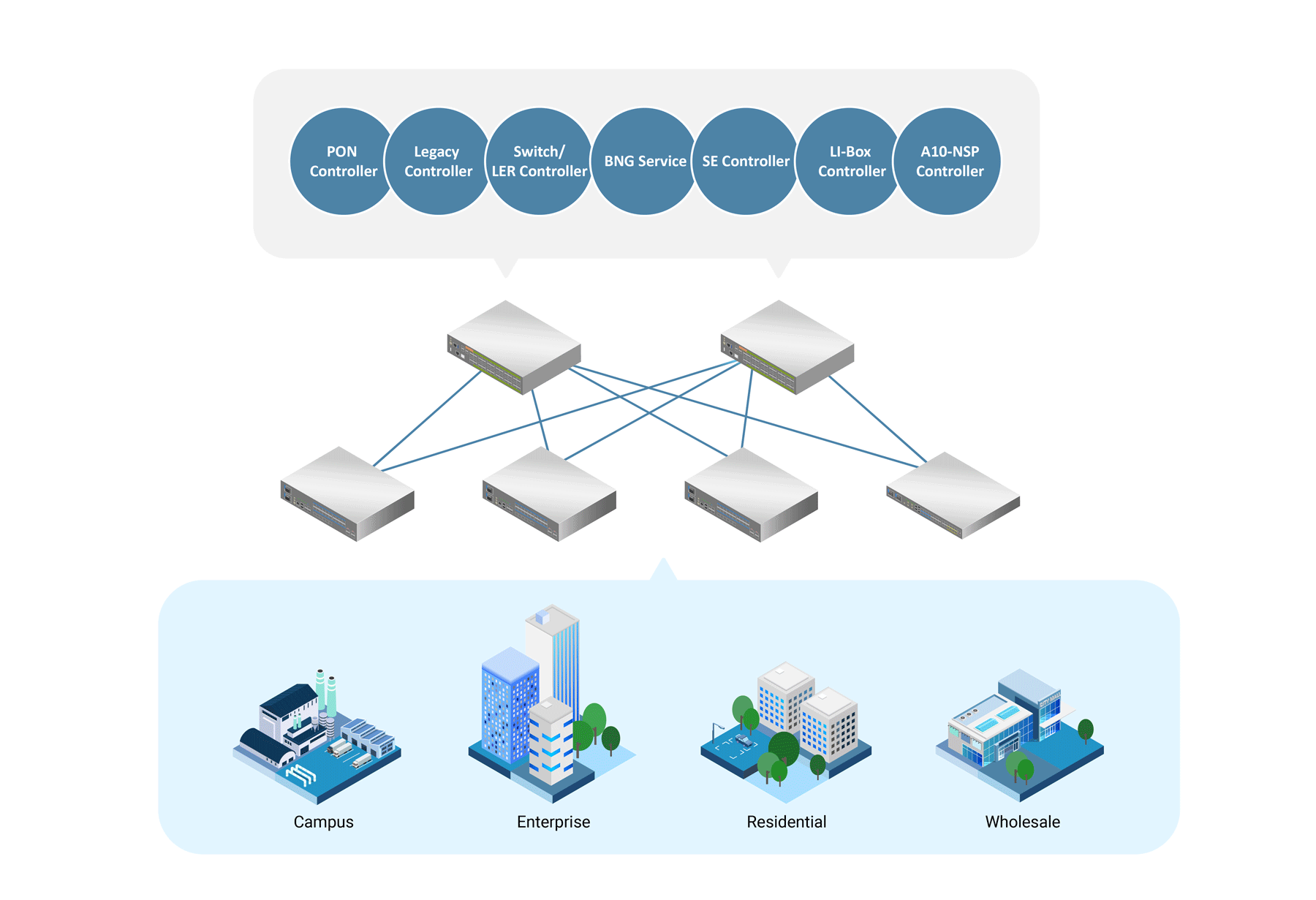 Deploy BNG Services into Any Part the Network
The classic, centralized broadband network gateway approach may have worked well in the past, but its rigid architecture makes it difficult to adopt service-oriented applications at the network's edge. Our BNG solution moves service features into the cloud so we can distribute BNG services across the network. This virtualized approach with our compact 2 RU routers makes it easier to build more resilient spine-and-leaf architectures, which further improves redundancy, reliability, and scalability. Our BNG routers can be deployed at the edge of the access network, aggregation network or further back at the core. Working with our partners to enable cloud-native features such as remote deployment, automated operations, and zero touch provisioning (ZTP), BNG provisioning is faster and simpler, leading to lower operating expenses.
Our Range of Open BNG Routers
UfiSpace's open BNG routers are optimized to meet different routing and BNG service capacity needs. Already being utilized in one of Europe's largest broadband networks as the fabric for deploying their virtual BNG services, our routers are able to support the various service requirements with a range of switching capacity from 300Gbps to 4.8Tbps, up to 128K subscribers per unit, and fully supporting SyncE/IEEE 1588v2 for deployments combining fixed and mobile backhaul traffic. We collaborate with a large ecosystem of software partners to give service providers a wide selection of cloud-native, software defined BNG solutions.