Overview
Disaggregated and Open Network Solutions
UfiSpace offers end-to-end 5G telecom solutions for telecommunication companies (telecoms) to implement a next generation network architecture. Our solutions make us an integral part of our customer's journey to prepare their network infrastructure for the surging data demand of 5G centric applications and services. Whether it is aggregating 5G and legacy data for the backhaul, increasing capacity for transport network or disaggregating the core network for more flexibility, UfiSpace offers the best of breed solutions for the network infrastructure from access to core.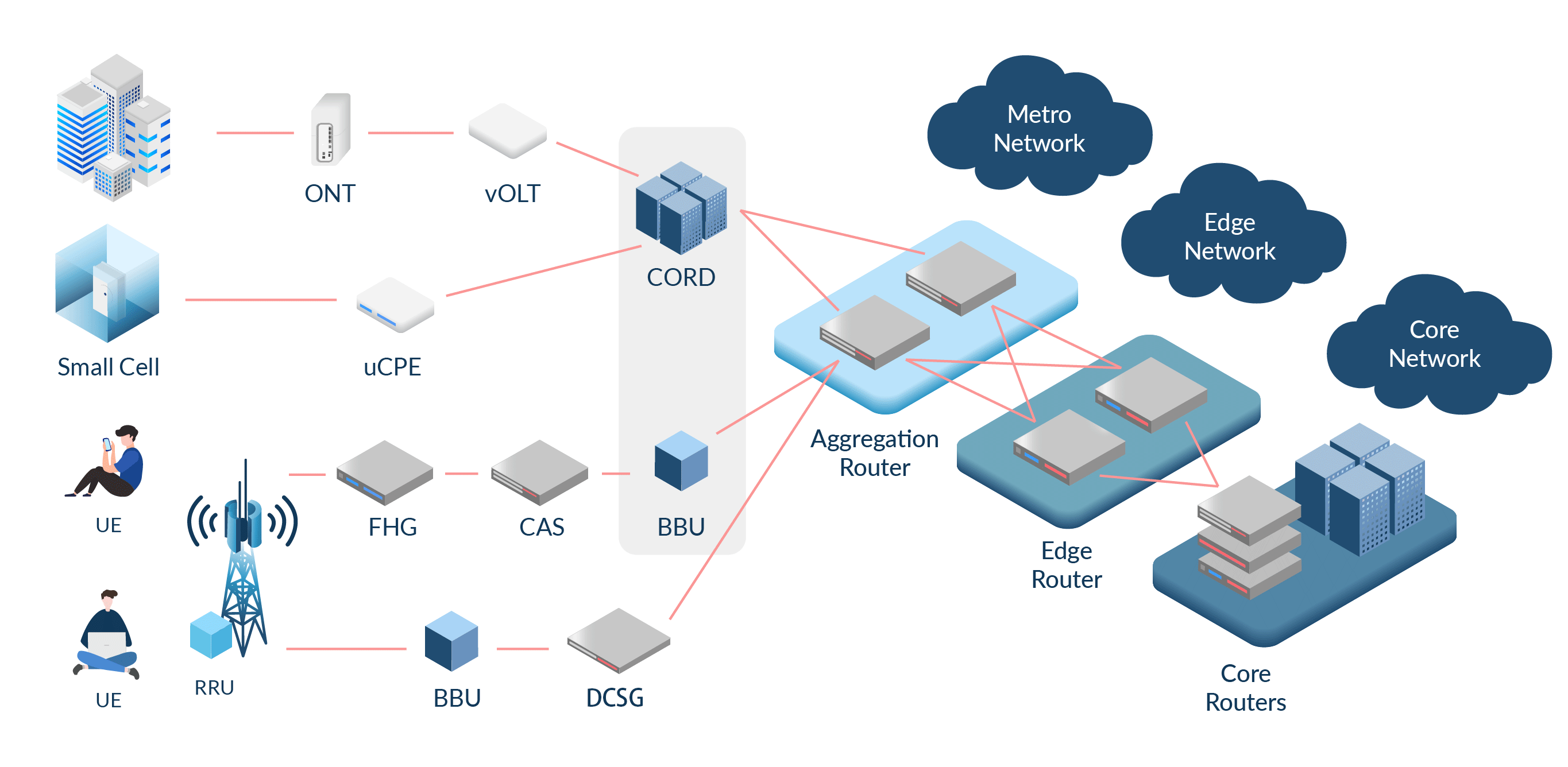 At UfiSpace, we utilize disaggregation and open networking as part of our solution to reduce the CAPEX and OPEX across the entire telecommunications network. Global tier 1 Telecoms have already deployed our solutions throughout the world to enable their next-gen 5G services.
What is Disaggregation?
As 5G matures, new services would be available for telecoms to enhance their offerings to their customers. That means a telecom needs to be more flexible than ever by enabling their network to adapt quickly. A traditional network is typically proprietary and vendor locked, which would make it hard for achieve such flexibility. Our 5G telecom solution disaggregates the network components by separating hardware and software into a uniform white box platform with cloud enabled software functions, which provides telecoms with an infrastructure that can implement network functions from multiple vendors. With this, telecoms can have the flexibility select the most suitable solution to meet their needs.

By transitioning to a disaggregated network, telecoms also unlock the potential for exponential improvement and growth needed to meet the oncoming surge in data demand caused by 5G. Hardware and software can be developed at their own pace, without being hindered by one another, fostering innovation. Telecoms can benefit from the best of both worlds.

Telecoms can also simplify their inventory management and reduce OPEX by utilizing the same platform throughout their network infrastructure. Our 5G telecom solutions integrate various network functions from world class vendors onto the same white box platform, allowing the same devices to be used in different parts of the network. Thus, we reduce the amount of parts needed for maintenance, while improving the flexibility for implementation. Our customers can focus less resources on maintenance and more on developing new services for their customers.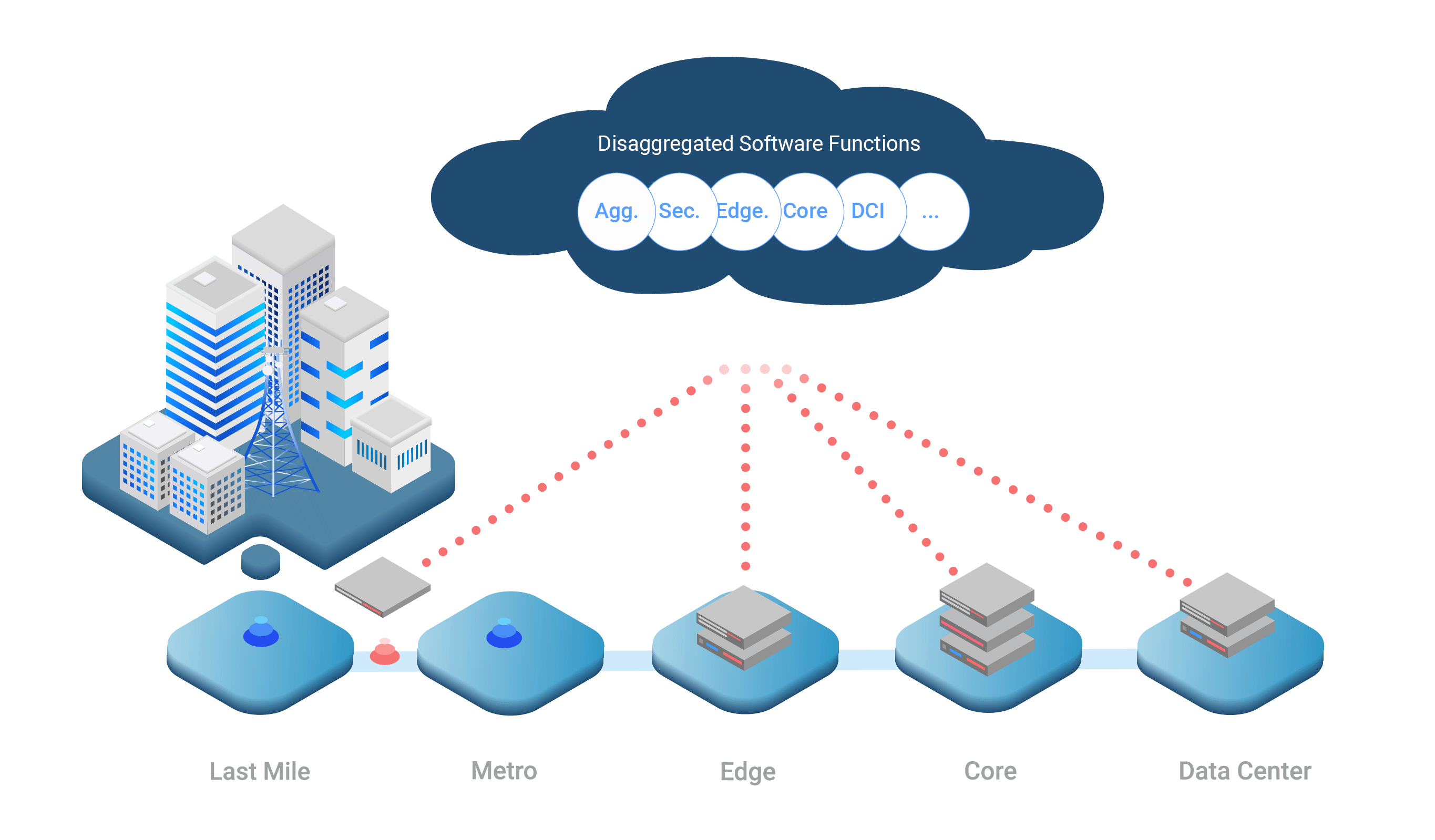 All Segments of the Disaggregated Network Utilize the Same White Box Infrastructure.

Why Open?
To foster industry growth and development, UfiSpace adopts an open network spirit by sharing our designs and specifications with open networking communities such as Open Compute Project (OCP) and Telecom Infra Project (TIP).

We take our 5G telecom solutions a step further by leveraging our software engineering expertise to simplify and reduce the efforts needed to integrate our white box platforms with network operating systems (NOS). This ensures that our customers not only get the best for their network, but also with faster time to market.

We can provide our expertise to accelerate integration with a NOS vendor of the telecom's choice or we can provide a wide selection of world class NOS vendors who have already integrated their system with our platform. Our goal is creating an integrated, open network ecosystem where we can provide the most suitable solution to help our customers reach their goals.

Features and Benefits:
Architectural Benefits of a Disaggregated Network
Control and Data Plane Separation:
Virtualized controller and functions, separating hardware and software lock
Flexibility in central office installation
Scale each plane independently
Easier to add new services and capacity
Single Unified Data Plane:
Uniform hardware used throughout network infrastructure
Flexible horizontal scalability
Business Benefits of a Disaggregated Network
Minimize CAPEX:
Use of merchant silicon
Bulk purchasing of hardware
Pay-as-you-grow scaling model
Minimize OPEX:
Flexible maintenance service contract options
Simplify hardware maintenance requirements
Access/Metro
5G and Legacy Aggregation
UfiSpace offers industry leading aggregation solutions for the next generation of access and metro aggregation networks. With over tens of thousands of units deployed in the field by the top Telecoms around the world, UfiSpace has been leading the way helping customers transition their legacy networks into the 5G era.
Convenience and Flexibility
The UfiSpace Disaggregated Cell Site Gateway Router (DCSG) is said to be the industry's first DCSG used by Telecoms to deploy Open and Disaggregated Transport Network (ODTN) services. Our routers are designed with a temperature hardened case with high port densities, high throughput and multiple small form factor features. This provides more flexibility for installation locations, allowing Telecoms to choose the installation option that would maximize efficiency and minimize costs.

The UfiSpace Open Aggregation Routers provides telecoms with an avenue to disaggregate both the mobile and broadband aggregation networks using multi-function platforms with timing synchronization features. With a single platform, telecoms have the flexibility to deploy it as a broadband network gateway, mobile ethernet aggregation, fronthaul aggregation, and more.

Additionally, our access/metro aggregation routers are built with hot swappable cooling fans and power supplies, they can be easily maintained and serviced without shutting down the system, thus keeping up availability and lowering opex.
Legacy Meets Next Generation
UfiSpace data aggregation solutions packs a wide range of interfaces into a small rack unit (RU) to give more versatility for Telecoms while reducing spatial footprint. We have a wide range of options with combinations of 100M/1GE/10GE/25GE ports (for legacy technologies) together with up to 40GE/100GE ports (for 5G enabled services). Telecoms can simplify their inventory management and save on purchasing costs.
Full Timing Features
Our access/metro aggregation routers support full IEEE 1588v2 and SyncE timing functions. They have integrated GNSS receiver with passive or active antenna support as well as various configurations of timing input/output interfaces such as ToD, BITS, 1PPS and 10MHz to ensure we can fulfill all the timing synchronization required by Telecoms in any scenario.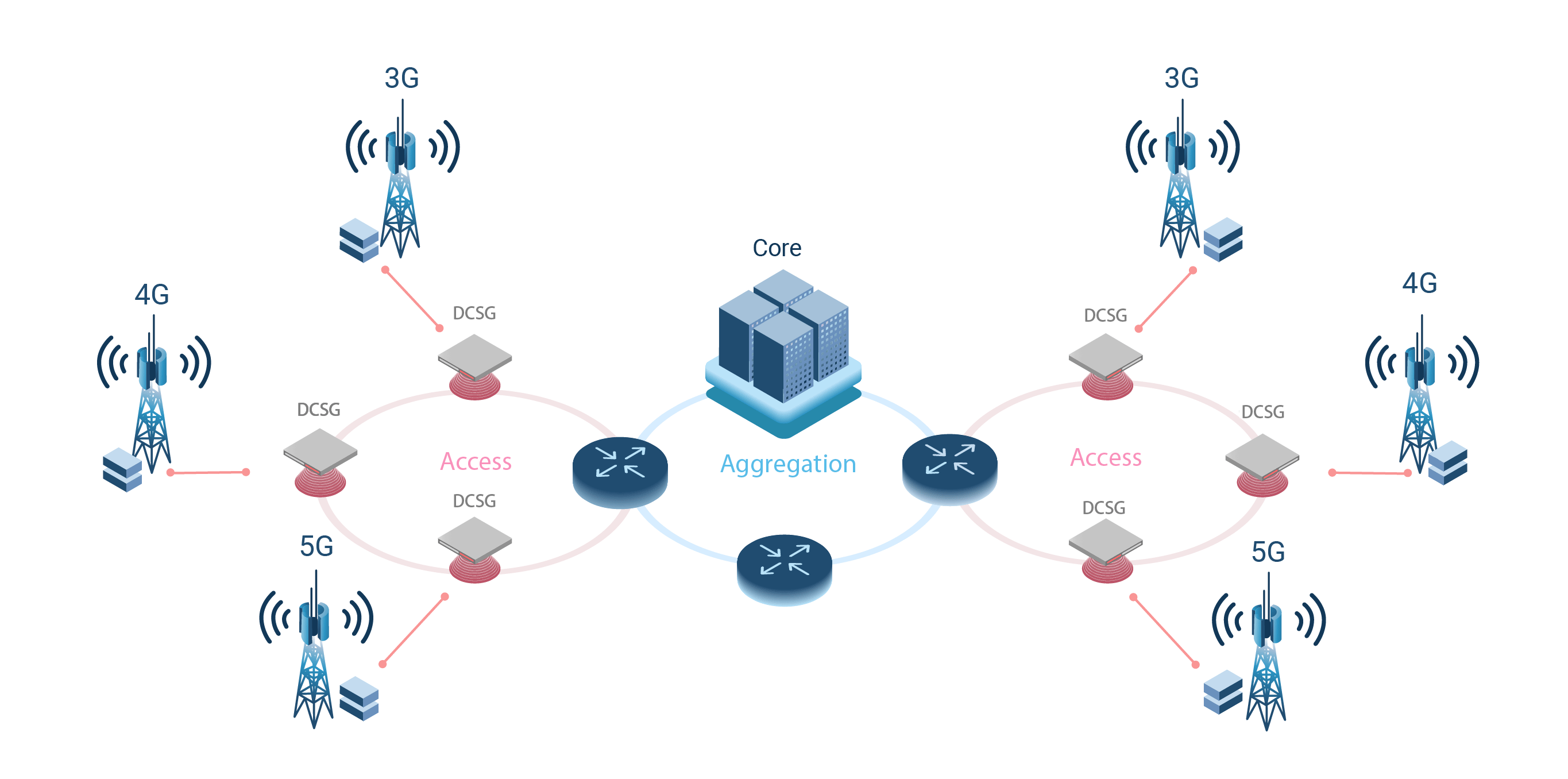 Features and Benefits:
OCP Accepted & TIP Compliant
Over tens of thousands of units deployed by global tier 1 Telecoms
Compatible with a wide range of carrier-certified NOS vendors
Supporting full timing synchronization features, Class C accuracy
Multiple timing interfaces inputs to adapt any network deployment scenarios
Variety of port densities and port options for 100M/1GE/10GE/25GE/100GE high-speed Ethernet ports
Compliance to carrier-grade safety and environmental standards
Multi-purpose designs suitable for a wide range of applications
Related Products:
Core/Edge
The Distributed Disaggregated Chassis Routing System
UfiSpace revolutionized the core and edge routing system by introducing an innovative routing platform that breaks apart the traditional routing system and allows for flexible, incremental scaling. A more detailed description of the distributed disaggregated chassis is available on our blog.
Innovate the Traditional Chassis
Our Distributed Disaggregated Chassis (DDC) routing system breaks up the propriety routing system into standalone Network Cloud Processor (NCP) and Network Cloud Fabric (NCF) white box platforms, each are compact in size and contains their own power and cooling systems. The system capacity will no longer be limited by the physical size of the chassis or the backplane's electrical conductance. Telecoms will gain unlimited flexibility for how and when they want to scaled up their network's capacity.
Incremental Horizontal Scaling
The UfiSpace DDC routing system has 100GE and 400GE options to meet a variety of network capacity needs. Telecoms can start with the current capacity needed without worrying about "unused chassis slots" or forklift upgrading. Capex spending on the network can be better controlled because capacity can be upgraded by simply adding additional NPCs and NCFs. Typical cluster sizes range from standalone (4Tbs) to small (16Tbs), medium (96Tbs), large clusters (192Tbs) and beyond (up to 768Tbs), but Telecoms can scale to any size in between.
Built-in Reliability and Availability
As the industry progresses to more 5G oriented applications and services, system reliability and availability will be more important than ever before. Which is why the UfiSpace DDC routing system has built in multiple layers of redundancies to ensure that Telecoms can deliver high quality, undisrupted services to their customers.

Each NCP has up to 13 fabric ports, which allows system architects to easily design system redundancies and non-blocking switching simply by ensuring all fabric ports are connected to two or more NCFs. Additionally, our NCP and NCF are equipped with redundant and hot swappable fans and power supplies to make it more convenient for Telecoms to maintain and service our system. Whether it's on the port level, device level or system level, our DDC was designed for maximum reliability and availability.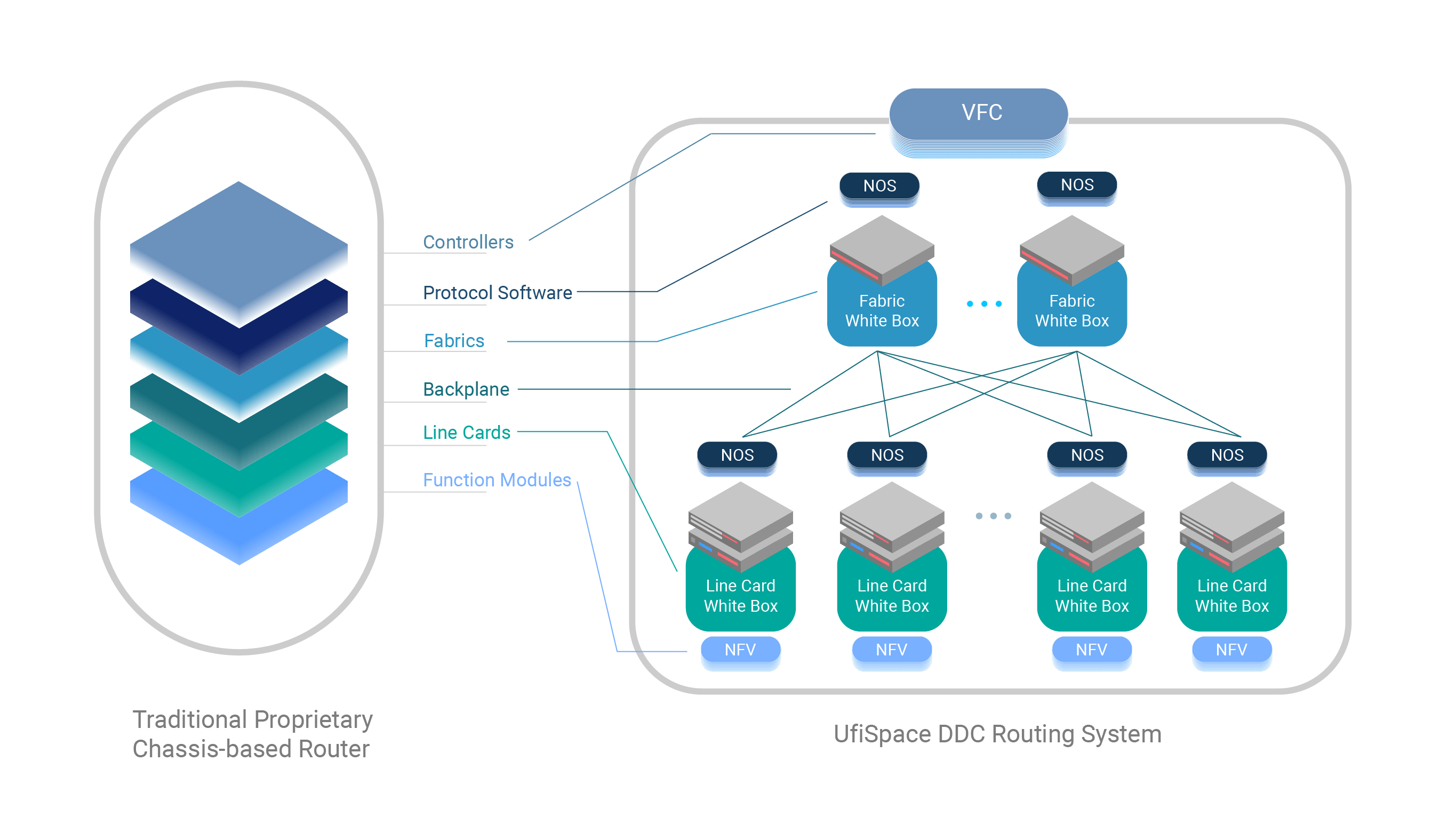 Features and Benefits:
Widely deployed in Telecom core and edge networks worldwide
Industry-first 400GE network white box solution to support 5G applications
Incremental, horizontal scaling enabling a pay-as-you-grow model
Multiple built-in mechanisms for redundancy and high availability
Accelerated table lookup, packet buffering, and control memory with low latency high bandwidth memory
Supports IEEE 1588v2 and Synchronous Ethernet
Compliance for central office and telco environment, NEBS Level 3
Interoperable with traditional chassis systems
Designed for existing 19" cabinet rack-mount installation
Easy maintenance with hot swappable, field replaceable fans and power supplies
Products: