Overview
Trend of Network Traffic
Similar to the famous Moore's Law, there is also an observation on the network traffic saying that bandwidth and data rates double every 18 months. In the late 1900s when the internet was first opened to the public, no one was able to foresee the evolution of the network today, in which data traffic grew more than 100,000 times and how tight our lives would be bound to internet services.
Here comes the 5G era, and it will give you more than you can image. With the booming of network services, people watch live streaming videos in 4K quality, enjoy AR/VR applications in real-time, and not only people, machines will connect to the network, which leads to enormous applications such as autonomous driving, manufacturing automation, smart city and more. The internet of everything is for real and the traffic load of the data center will be massive.
UfiSpace provides a complete portfolio for different applications in the data center to fulfill the exponential data traffic growth.
Spine & Leaf
Network Topology Evolution
As a result of network function visualization and software defined networking, the data center handles more traffic inside than outward and east-west traffic accounts for more than 70% data volume of a data center. Traditional 3-tier network architecture was designed to handle north-south traffic and faces lots of challenges in today's traffic pattern such as unpredictable latency, lack of scalability and low network utilization.
Spine and leaf architecture based on CLOS model, introduce the concept of full mesh network topology for data center to address on those issues. The topology contains two layers, spine and leaf. The spine layer is the network backbone and all the switches in spine layer connect to every switch in leaf layer. The leaf layer is built with switches that connect to servers.
With the full mesh topology, the traffic travels between 2 server nodes has the same and predicable delay. The routing path is dynamic selected and guarantee the best path to be used according to the condition of the network to optimize the network utilization and efficiency. When the traffic load is full, simply add extra leaf or spine node to extend the downlink or uplink capacity.
By leveraging open architecture, UfiSpace's products can be easily integrated with all the major Network Operating Systems (NOS) and automation tools and are the best choice to build any scales of data center. From local data center to web scale data center, UfiSpace provides top of the line products to enable reliable and high performance spine and leaf network architecture.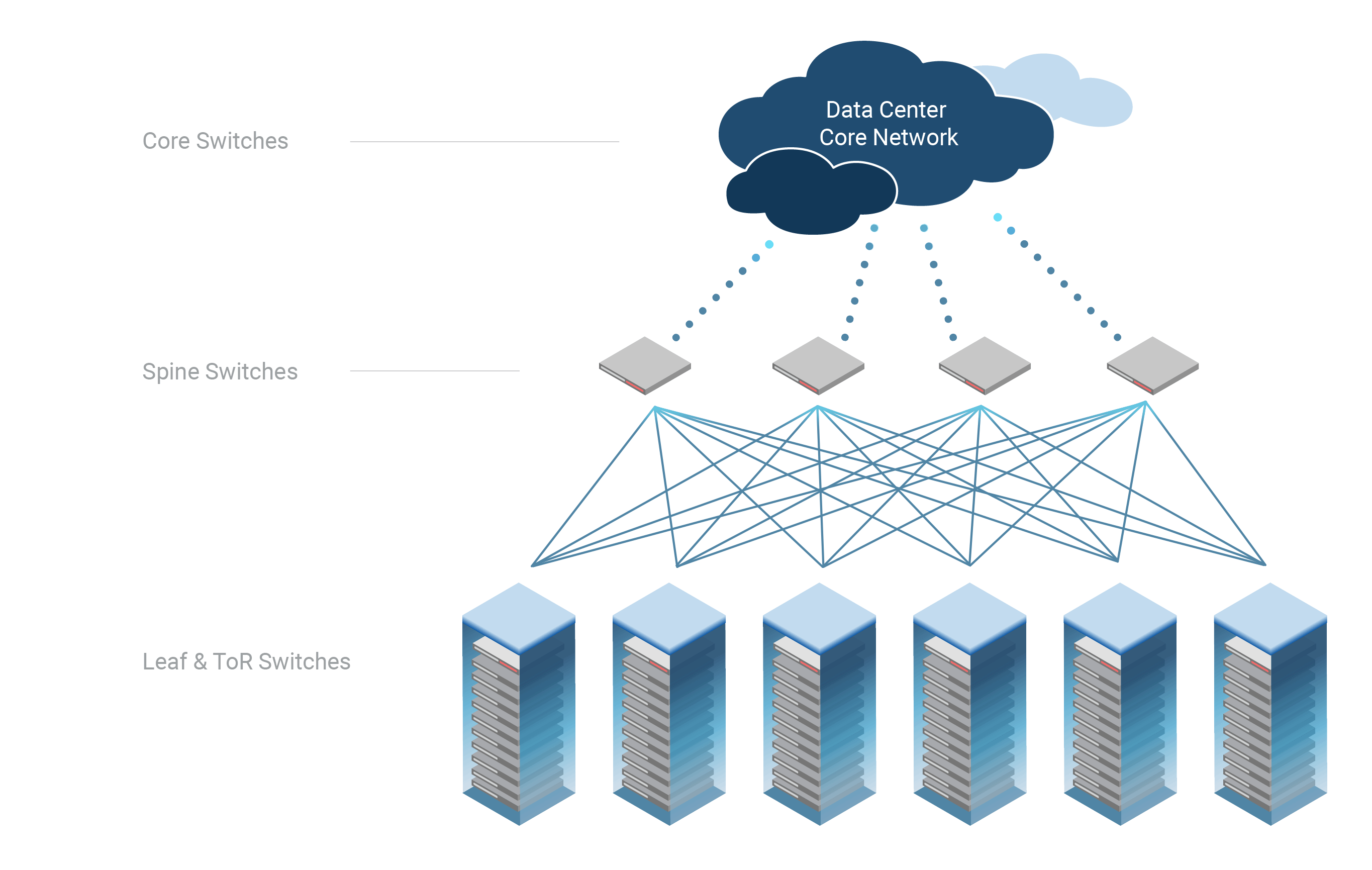 Features and Benefits:
Complete portfolio for different applications in data center
Compliant with open standard helps to reduce CAPEX and avoid vendor lock-in
Compatible with major NOS vendors
Compatible with automation and orchestration software
Redundant design ensures the availability of network service
Reliable, high performance and low latency features enable network optimization
Extensive transition technologies for IPv4, IPv6, and dual stack management functions
Related Products:
Disaggregated Solution
Switch Architecture Transformation
Traditional chassis solution can no longer fulfill market demand. The proprietary system's software and hardware came from a single vendor, although it guarantees the software and hardware compatibility but the vendor lock-in leads to more drawbacks than benefits.
Traditionally the pace of new technology adoption was controlled by chassis vendors and the solution came bundle with hardware and software. End users barely have choice to get what fits their requirement best and it is not easy to integrate an alternative solution into existing network system. The scalability is also limited by the chassis itself, the maximum capacity is decided at the time you bought the chassis, to upgrade the only choice is to buy a bigger chassis.
Now, disaggregation is becoming a new norm. The first step, the industry introduced the concept of open architecture, by opening the hardware specification, ODM and OEM can build standard hardware platform and software company can build their software on the hardware platform. The development now is driven by the market and end users have the freedom to select from different suppliers to optimize the data center resources. One step further, both hardware and software could be broken down into different modules, allow end users gain more flexibility on the system configuration. Distributed Disaggregated Chassis (DDC) is the upcoming approach to realize hardware disaggregation, use line card switches coupled with fabric switches to build a switch system to break the limitation of chassis size and functionalities.
UfiSpace's Distributed Disaggregated Chassis solutions are the best fit to highly scalable and reliable Spine&Leaf architecture enables data center to provide flexible and reliable service, scale-out on demand while still minimizing CAPEX and OPEX.
Features and Benefits:
Disaggregated configuration breaks the port number limitation
Pay as you growth architecture minimize the initial investment
Compliant with open standard helps to reduce CAPEX and avoid vendor lock-in
Compatible with major NOS vendors
Compatible with automation and orchestration software
Redundant design ensures the availability of network service
Related Products:
Recent News
Featured White Papers
Contact us to learn more about how an open network can bring you value!