Wireless Wonders: Exploring in-Building Solutions and Private Networks
2023/10/27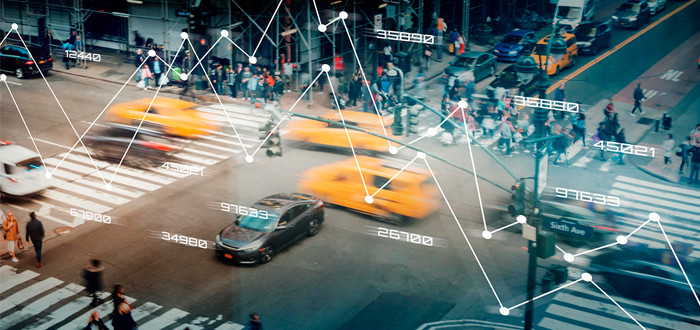 by Will Chang
Can you remember the last time you plugged in a cable to get online? In our fast-paced and data-driven world, networks are considered as essential as electricity and water. Nowadays, wireless connections are taking over as the primary approach to getting online.
The global trend toward mobility
According to the GSMA, the number of unique mobile subscribers hit 5.4 billion in 2022 and is projected to increase to 6.3 billion by 2030, accounting for 73% of the population. While people enjoy all kinds of mobile network services, the industry is also migrating towards wireless options. Many vertical applications are adopting private mobile networks designed to improve productivity and streamline workloads, while 5G is acknowledging this demand by introducing various features for different scenarios.
Coverage is the most important consideration for both public and private mobile networks. However, this becomes more challenging for indoor reception options since radio frequency signal attenuates when traveling through concrete or metal.
In-building wireless is the optimal solution to improve indoor signal coverage. Here, we will discuss this concept in more detail to see how it can be realized for public and private mobile networks in a cost-effective way.
Distributed Antenna Systems (DAS) architecture for public networks
Distributed Antenna Systems (DAS) extend cellular signal coverage by deploying antennas in selected areas. Generally, a signal feeder and a distribution system are required to build a DAS. Let's take a look at these components in more detail.
Signal feeders enable wireless signals via an outdoor antenna and wired backhaul link
Signal processing equipment receives Radio Frequency (RF) signals and dispenses them through the distribution system. A wireless RF signal source is possible through an outdoor donor antenna or wired via a backhaul link.
Wired links and antennas support the distribution system
The cellular signal is transmitted throughout the facility via wired links and antennas. Depending on the technologies used, the wired link could be analog copper cable, analog optical fiber, or digital optical fiber.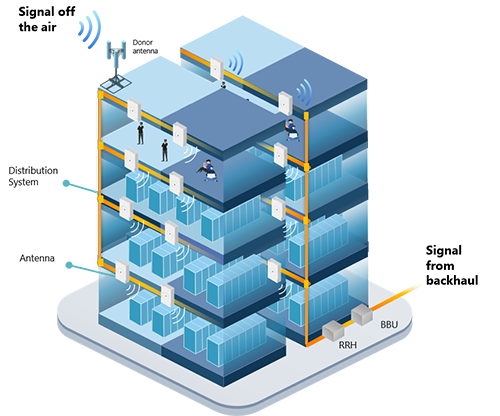 Figure 1 Passive DAS with different signal sources
Traditionally, the DAS is a passive system that includes no active component. It uses a simple Bi-Directional Amplifier (BDA) to boost the signal. The passive DAS simply re-broadcasts the signal through coaxial cables. Although passive DAS is the cheapest solution, the large and heavy cables mean it requires more work during installation. It is also inflexible and not easily transportable when changes are required.
An Active DAS requires an additional RF-Optical component in the equipment room and a Radio Unit (RU) near the antenna. This converts an optical signal to an RF signal for the antenna. With this design, cellular signals could be transmitted further with a fiber optic cable. However, the upfront costs of this version are higher because it requires more complex and sophisticated components.
DAS is the desired solution to improve the indoor coverage of public mobile services due to its ability to support multiple operators. DAS neatly juggles forwarding the radio signal and supporting multiple operators, making it the preferred choice to improve the coverage of indoor public mobile services.
Why use the Fronthaul Multiplexer for private networks?
The combination of flexible architecture and various features such as enhanced Mobile Broadband (eMMB), Ultra Reliable Low Latency Communications (URLLC), and massive Machine Type Communications (mMTC) makes 5G the perfect solution for private networks that are suitable for various industrial applications. Find more information about 5G solutions in our recent blog posts.
General private 5G deployment is based on public network architecture, and Distributed Units (DU) directly connect to and manage one or two Radio Units (RU). Many RU will be required to cover a large indoor area, especially with mmWave, implying a high quantity of DU. This would be very costly for venues or factories. As such, O-RAN took inspiration from the DAS architecture and designed a Shared-Cell Function to extend the coverage using just a small number of DU.
Group multiple RUs with the O-RAN Shared-Cell Function
The Shared Cell Function from O-RAN is defined as an operation for the same cell by several O-RUs. This means that the Shared Cell Function can group multiple RUs and create a virtual cell, essentially operating like a big cell tower.
The core technology behind the O-RAN Shared Cell Function is the eCPRI Copy and Combine. A functional component, either as a standalone device or a function implemented in the O-RU, is responsible for the processing and mapping of all the eCPRI messages and creates a virtual cell.
The Fronthaul Multiplexer (FHM) is an example of a standalone device that implements signal processing as explained below.
Downlink copy
The eCPRI message from the DU to the RUs is copied and distributed to the designated RUs.
Uplink combine
The eCPRI messages from each RU will be verified, and IQ data corresponding to the same radio resource will be combined as one eCPRI message. It will then be forwarded to the DU.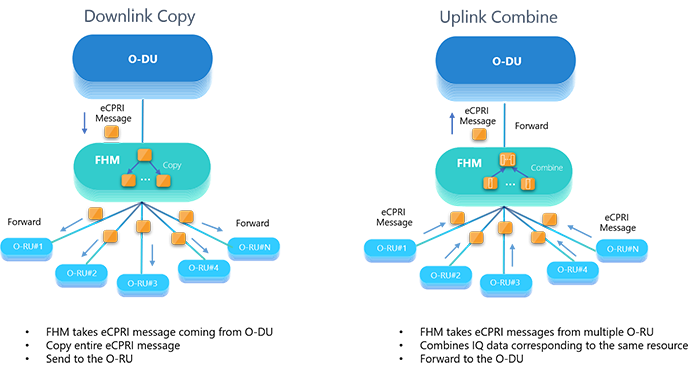 Figure 2 Shared Cell Copy & Combine Illustration
With this design, the 5G network could work similarly to the DAS network, in that the signal can be split and forwarded further without deploying an extra DU.
The solution is tightly integrated with 5G Open RAN architecture and can deliver advanced and secure services for private use.
Send public and private networks further with DAS and FHM
As mentioned above, DAS helps to extend the cellular coverage of public networks and FHM can be used in private 5G deployment.
Today's generation craves access to mobile networks, which are regarded as a key metric of satisfaction for public access facilities such as stadiums, shopping malls, and airports. That's where DAS comes in.
However, increasing amounts of automation and IoT equipment means a separate network for business operations is increasingly important. High bandwidth is not the only consideration for private networks: security, stability, and, of course, good coverage are all necessary factors. 5G is specially designed to enable vertical applications, and FHM is the pivot to realize it economically.
Here are two examples of how enterprises optimize services and productivity with public and private mobile networks.
Airports — mobile networks for convenience on the fly
The ever-evolving concept of Airport 4.0 is on the rise, utilizing private wireless connections for workforce operations that guarantee secure, stable, and manageable data transmission while leaving Wi-Fi and public mobile signals for the general public.
Stadiums — network separation for an unforgettable user experience
Smart Stadiums enhance the fan experience by using the latest 5G technology. Fans can enjoy high-resolution replays, virtual reality (VR), and augmented reality (AR) games, or share videos with friends or on social media in real time. These services will be backed up by private 5G connections where videos are filmed by a 5G-enabled camera and wirelessly transmitted to the control room. Food stands and gift shops also utilize separate and reliable 5G connections for ultimate security when making transactions.
Why choose UfiSpace's Fronthaul Multiplexer?
The Fronthaul Multiplexer (FHM) is UfiSpace's brainchild and the first product to address the need for open fronthaul and private 5G networks while being entirely dedicated to the open transport network solution.
Boasting eight O-RU and four O-DU connection ports, the UfiSpace FHM is equipped with a high-performance Intel FPGA. The in-house FPGA solution implements an O-RAN Shared Cell function that simplifies private 5G network configuration while minimizing the amount of resources required. There is no need for an additional third-party Network Operating System (NOS), and system configuration may also be implemented through a command line interface, SNMP, or NETCONF.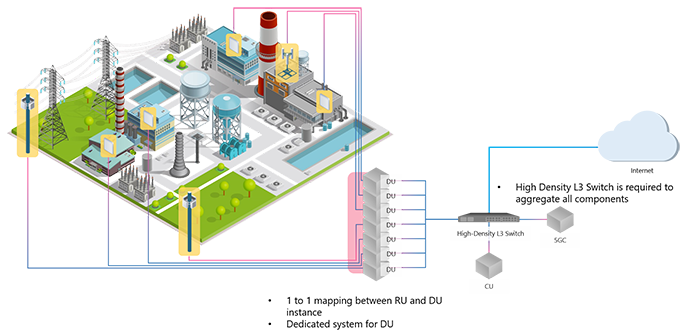 Figure 3 Private 5G Network with FHM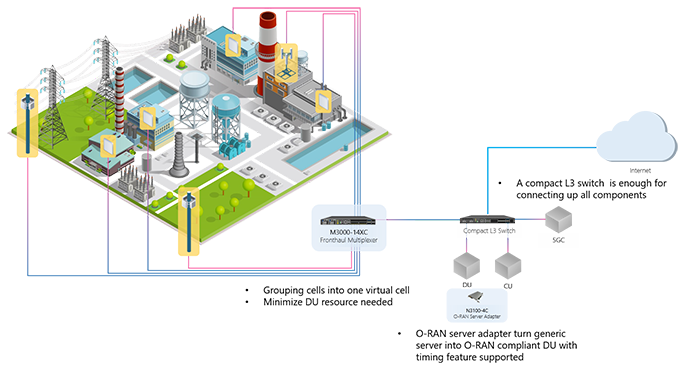 Figure 4 Private 5G Network without FHM
UfiSpace's cutting-edge FHM (M3000-14XC) is available for testing now. For more information about our data center products, please contact our sales team.