5 Questions to Gary Huang, COO at UfiSpace | 2022
2022/06/17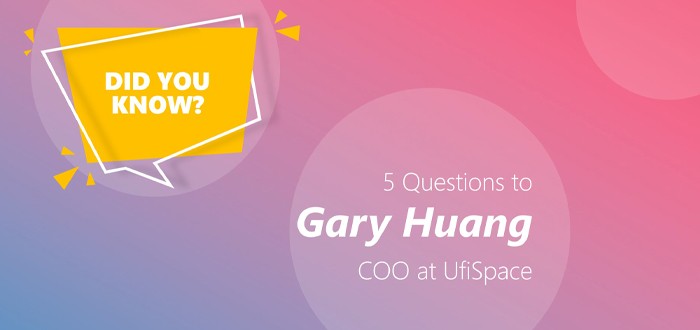 The ongoing pandemic has brought multiple challenges to all companies across different domains. UfiSpace thrived on providing its operator customers with continuous hardware deliveries and minimal cost increases. We have asked 5 questions to Gary Huang, the COO at UfiSpace, to learn more about what challenges the company faced during the pandemic, how the company managed to thrive during the challenging times, and what is his vision for the market recovery.

Gary Huang graduated National Taiwan University with Master's Degree in Engineering, specialized in Enivronmental Engineering Technologies. He has an extensive experience working as sourcer for global conglomerates in Taiwan and accross Asia.
What's Behind the Ongoing Global Chip Shortage?
The global chip shortage has been disrupting industries worldwide for almost 2 years. The current chip shortage is major steam from Covid19 pandemic that caused an explosive surge in demand for consumer electronics and network peripherals as well as components. In the simplest term, demand is far outstripping supply. In addition, auto companies canceled orders initially because they assumed the economy was going to take a longer hit. As production ramped up again soon, there were not enough chips to go around.

Adding to the problem, the virus constantly changes through mutation, which impacts downstream operations in South Asia, such as chip packaging and testing, and the recent China lockdown further tightens global chip supply.
What's the Impact of Global Chip Shortage?
Semiconductors are a building block of almost every product used in our daily lives. The severity of the global chip shortage has gone up, impacting millions of people as increases in daily expenses or longer waiting times for necessities. UfiSpace is not able to escape the price increase for semiconductor chips. We tried hard to maintain the price, but it's inevitable to pass on the increased cost to customers as absorbing the higher cost is only a short-term strategy.

The impact of the price hike is felt more obviously in 2022, especially when TSMC announced the price increase for the second time in less than a year. Lead times for chip delivery have again been extended amid persistent chip shortages. 2022 is a tough year for all, and there are a lot of variables complicating the recovery.
How to Navigate the Global Chip Shortage?
In response to supply constraints and the increased shortages, UfiSpace takes a several steps to ensure we are in the best position possible:
1. Provide long-term forecasting to our suppliers so they can plan their product capacity and any potential longer-term capital investments. But forecasting is not going to secure products amid chip shortage, we should place long-term orders for the end of 2022 and into 2023 to enable better visibility and reduce the impact of rising price .
2. Check alternative source available stock/capacity to support
3. Increase approved suppliers for common products.
4. Build extra buffer inventories to react any unpredictable manufacturing delays and unforeseen circumstances.
5. Purchase from spot market
Are We Finally Reaching the End of a Global Chip Shortage?
Unless there is a sudden drop in demand, the chip shortage will not be over anytime soon. Even so, some of the major chip makers have broken ground to build the new facilities, but it's not going to solve today's problem as semiconductor capacity takes time to build. While a lot is being said by a lot of different people, at least the lead time is slowly improving towards the latter half of 2022.

On the bright side, countries worldwide are starting to lift restrictions from pandemics; people are gradually getting back to a pre-pandemic lifestyle, as well as demand-supply gaps have been shrinking, signaling an approaching end-to chip shortage across the broader ecosystem.
Could Global Chip Shortage Flip over to Oversupply?
In order to relief the chip shortage, the chipmakers are on track to spend billions of dollars on new capacity and production equipment. It probably will take at least two years for those new facilities actually pumping out chips. As no one can surely predict that global demand for semiconductors will keep rising, the chip makers have high potential being locked in a vicious boom-bust cycle down the road. The extent of this will likely vary by industry and application.

In addition, many companies purchased more than they actually need to avoid stockout, it may follow by painful periods of excess inventory to liquidate as the double-booking or even triple-booking may distort the real demand.

For more information about UfiSpace products and solutions, please contact our sales team.