[英文] UfiSpace Participates in Broadband Forum's 2021 CloudCO Delivering Open BNG Solution
2022/01/20
by Victor Khen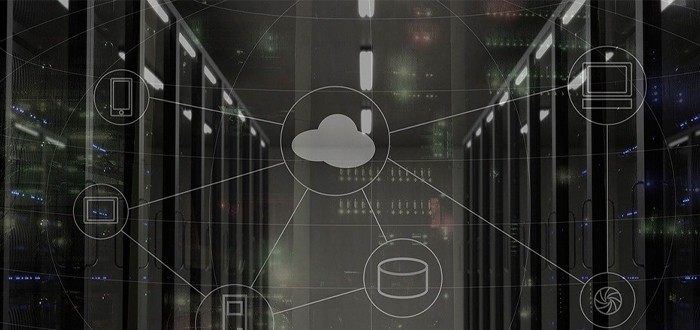 In its latest showcase Broadband Forum (BBF) has presented the latest iteration of CloudCO project, a fully functional open network infrastructure built on multivendor software and hardware components. UfiSpace, a pioneer and leader in disaggregated solutions for transport networks, participated as a provider of white box open broadband network gateways (OpenBNG).
The CloudCO workgroup demonstrated 1Gbps automated service creation, activation, monitoring, and zero touch provisioning. The demonstration was distributed across several locations to model actual distributed data center infrastructure, typically seen in service provider's network. Pinnacle of the demonstration has become a dynamic session steering during a gaming session.
The demonstration represents a major milestone in readiness of open network infrastructure for fixed broadband networks. The framework presented a similar feature set to traditional monolithic infrastructure but enabled participating operators to dynamically add new value-added services by deploying new containerized applications.
What is CloudCO
The BBF's cloud central office (CloudCO) recasts the Central Office hosting infrastructure to utilize Software Defined Networking (SDN), Network Functions Virtualization (NFV) and cloud technologies. It transforms operator networks expanding their ability to innovate, to scale, to be agile, and to reduce costs.
Two primary objectives of CloudCO's project are definition of standardized open interfaces and development of disaggregated cloud-based broadband framework. By doing so, CloudCO opens new opportunities for hardware and software suppliers and provides telecom operators with a validated open networking solution.
The Workgroup | CloudCO 2021
The 2021 CloudCO framework was developed in cooperation of Broadband Forum together with leading European telecom operators: BT, TIM, and Vodafone alongside engineers from Altice Labs, Capgemini Engineering, Broadcom, EANTC, Nokia, UfiSpace, VMware, the University of New Hampshire – InterOperability Laboratory (UNH-IOL), and system integrator Reply.
Telecom operators represent major stakeholders in this project. The shift from siloed proprietary solutions to a multivendor environment will open vast opportunities for service differentiation and drive down capital and operating expenditures.
The CloudCO utilizes a layered structure. Key elements include:
Orchestration. ONAP and OSM were deployed to provision cloud domain orchestrator functionality.
ONAP for service orchestration.

OSM for VNF life cycle management to network functions.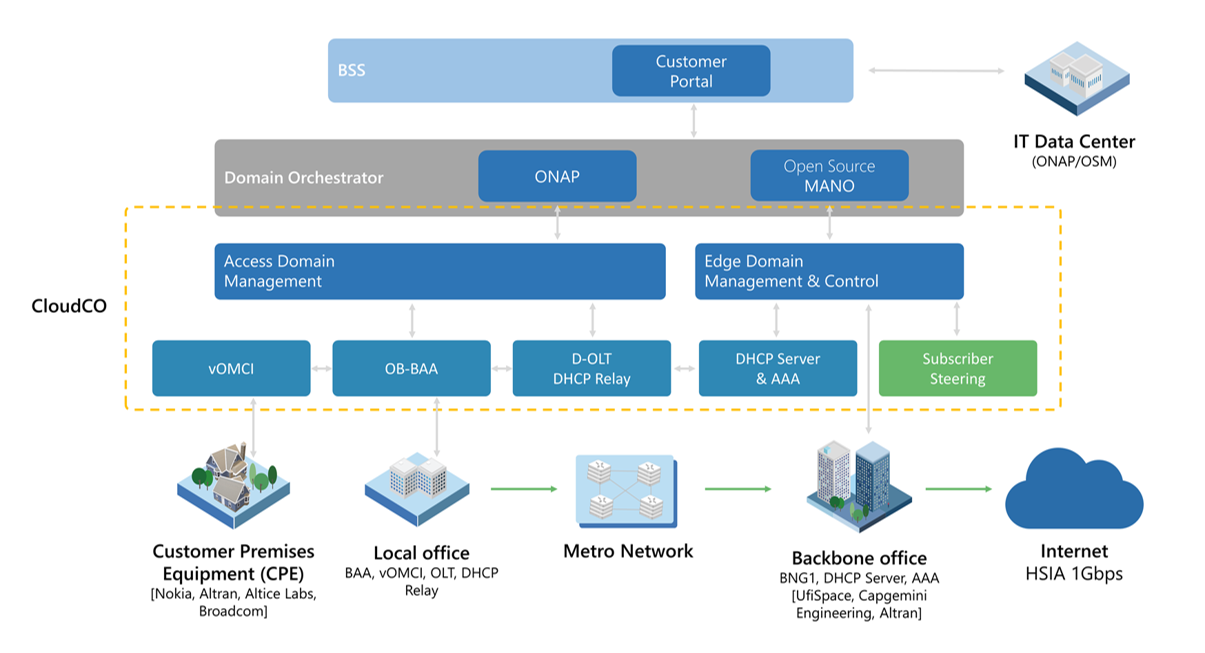 2021 Broadband Forum CloudCO Demo Framework
Access SDN Controller (On the Right)
OB-BAA layer provides abstraction to the access network equipment provided by Altice labs, Altran, Broadcom, and Nokia. Standardized interfaces being presented to the SDN Controllers are uniformed and well-defined according to the broadband forum specifications.

vOMCI enables the Whitebox OLTs to function within the demo. It is an open source reference implementation instance ran within OB-BAA and was developed by Broadband Forum.
Edge SDN Controller (On the Left)
Sample application was provided by Swisscom to interact with Edge BNG and subscriber steering functions designed by Altran along with open source components that are used to provide triple-A services as well as the DHCP service functions.
The demonstration was spread to several locations. Open Broadband labs in North America at University of New Hampshire Interoperability Lab (UNH-IOL) and EANTC as well as vendor premise labs to emulate a functional distribution and hierarchical deployment of the building blocks. This can significantly lower management costs and streamline operator's network efficiency on a global level.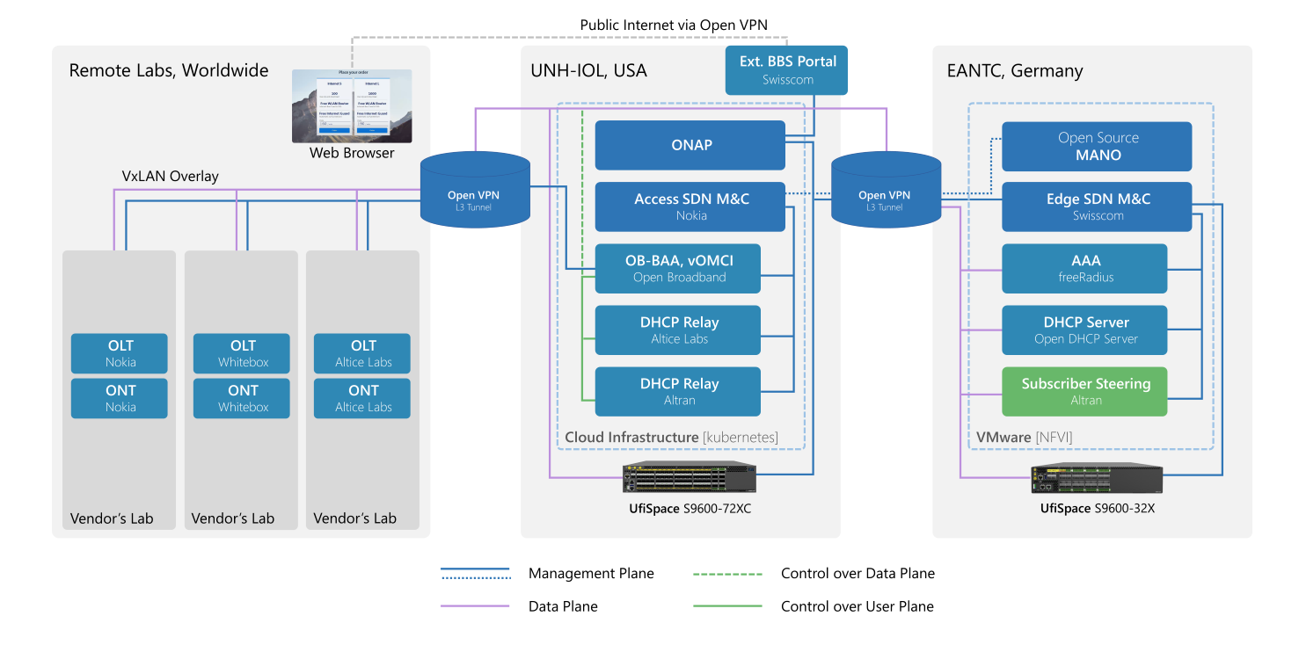 2021 Broadband Forum CloudCO Lab Implementation
Domain orchestration was distributed across two locations. Customer portal and ONAP, the domain orchestration for service fulfillment and monitoring, were placed at UNH-IOL (USA). NFV domain orchestration function OSM was placed at EANTC (Germany).
Aggregated access edge was placed at IOL with SDN management and control functions, comprised of virtual components by Nokia, Altice Labs, Altran, along with broadband abstraction layer the OB-BAA.
Aggregated access was placed at EANTC with edge management from Swisscom's open source project and Altran's subscriber steering functions.
Two UfiSpace BNGs were deployed at UNH-IOL lab and EANTC to demonstrate how a subscriber session can be steered to a location that can provide a better user experience.
All access and premises equipment was hosted remotely on virtual show floor, placed at participating vendors' labs in North America, India, and various locations in Europe due to Covid-19.
The OpenBNG | CloudCO 2021
For the demonstration, UfiSpace has provided two aggregation routers, UfiSpace S9600-32X deployed at EANTC in Germany and S9600-72XC deployed at IOL in USA, both were used to host Capgemini Engineering NOS. The models offer massive aggregation capacity, advanced hardware redundancy, and bring flexibility for open broadband network deployments. Key features include:
Over 3Tb aggregation capacity
Native support of ONIE and ZTP
Edge SDN Controller (On the Left)
Class-C timing accuracy (GNSS, ToD, 1PPS, and 10Mhz)
25GE SFP28 and 100GE QSFP28 port support
Individual BMC modules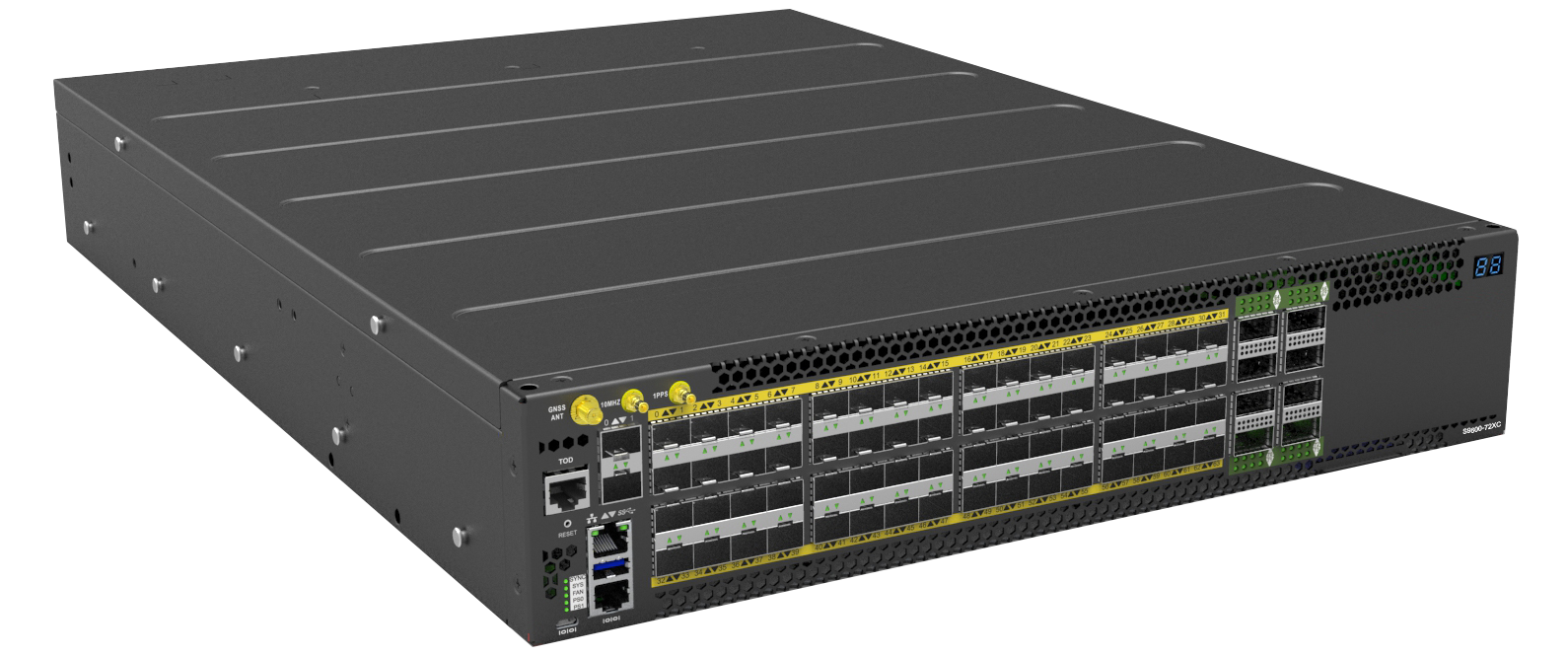 UfiSpace S9600-72XC Aggregation Router. Image courtesy of Broadband Forum
Demonstration, Network Function Deployment | CloudCO 2021
We loved the drag and drop UI of Open Source MANO (OSM). The orchestrator has intuitive UI and allowed rapid deployment of KNFs by dragging and dropping all needed Virtualized Network Function (VNF) descriptors.
The demonstration onboarding the DHCP Relay Kubernetes Network Functions (KNFs) into OSM:
Step 1. Drag and Drop Altice labs and Altran VNF packages (descriptors)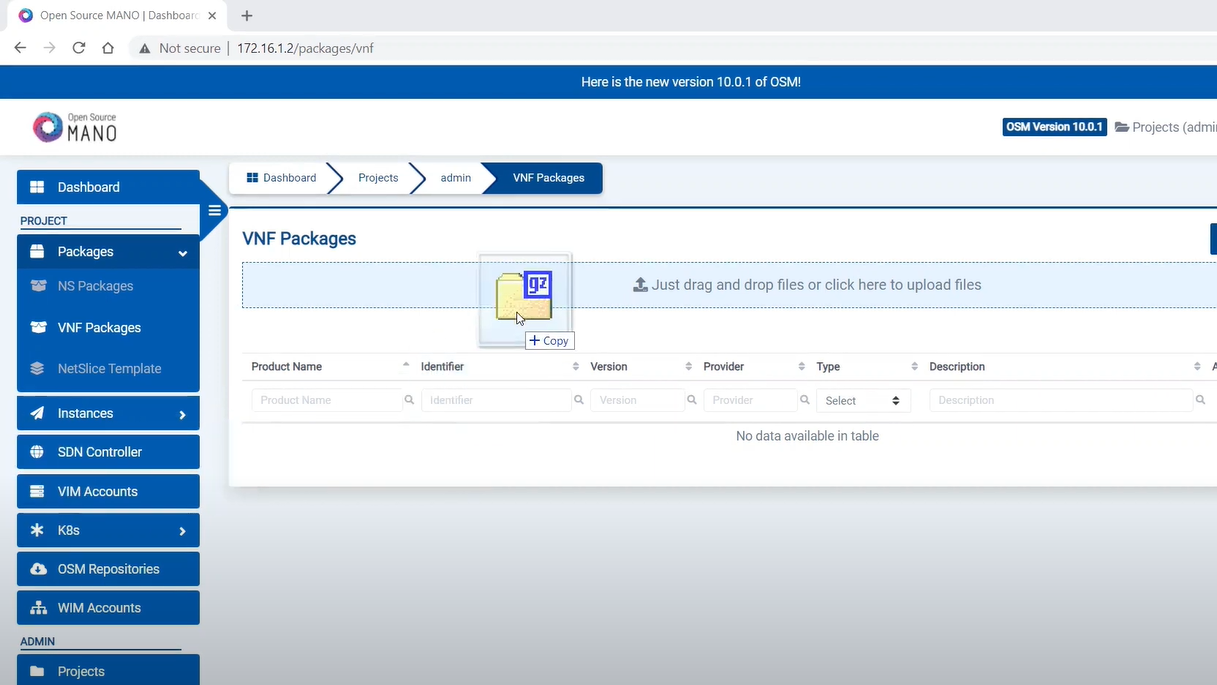 Onboarding of VNF Packages. Image courtesy of Broadband Forum
Step 2. Drag and Drop Altice Labs and Altran NS packages (descriptors)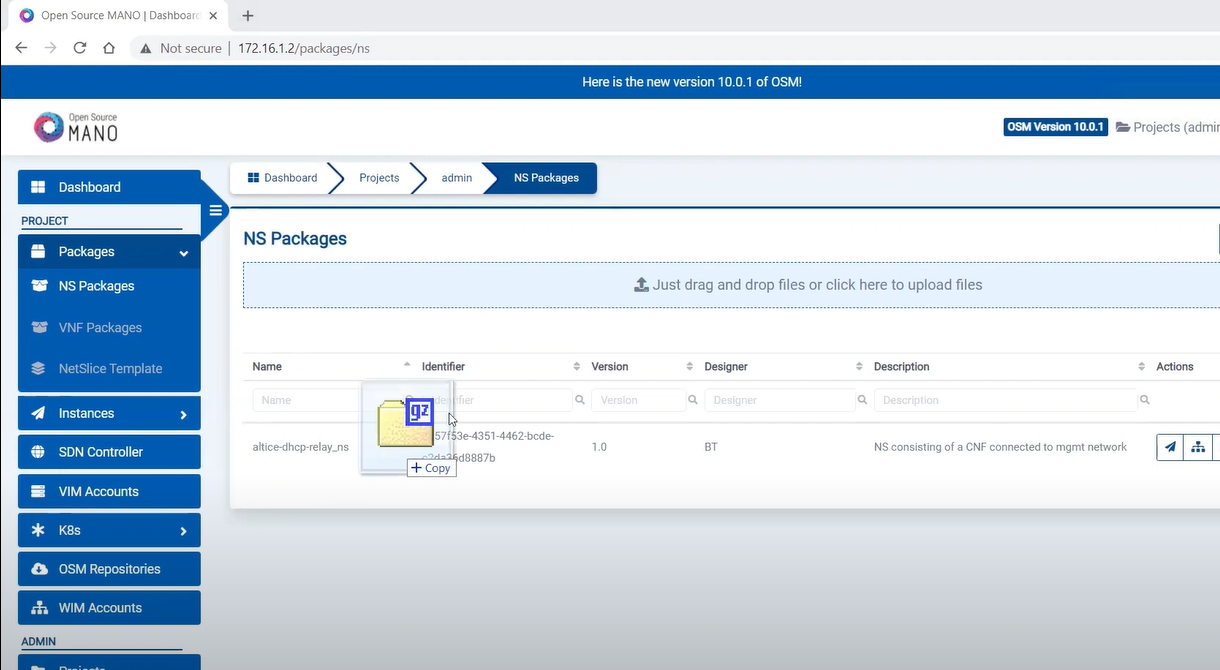 Onboarding of NS Packages. Image courtesy of Broadband Forum
Step 3. Creating and instantiation of Altice labs and Altran VNF instances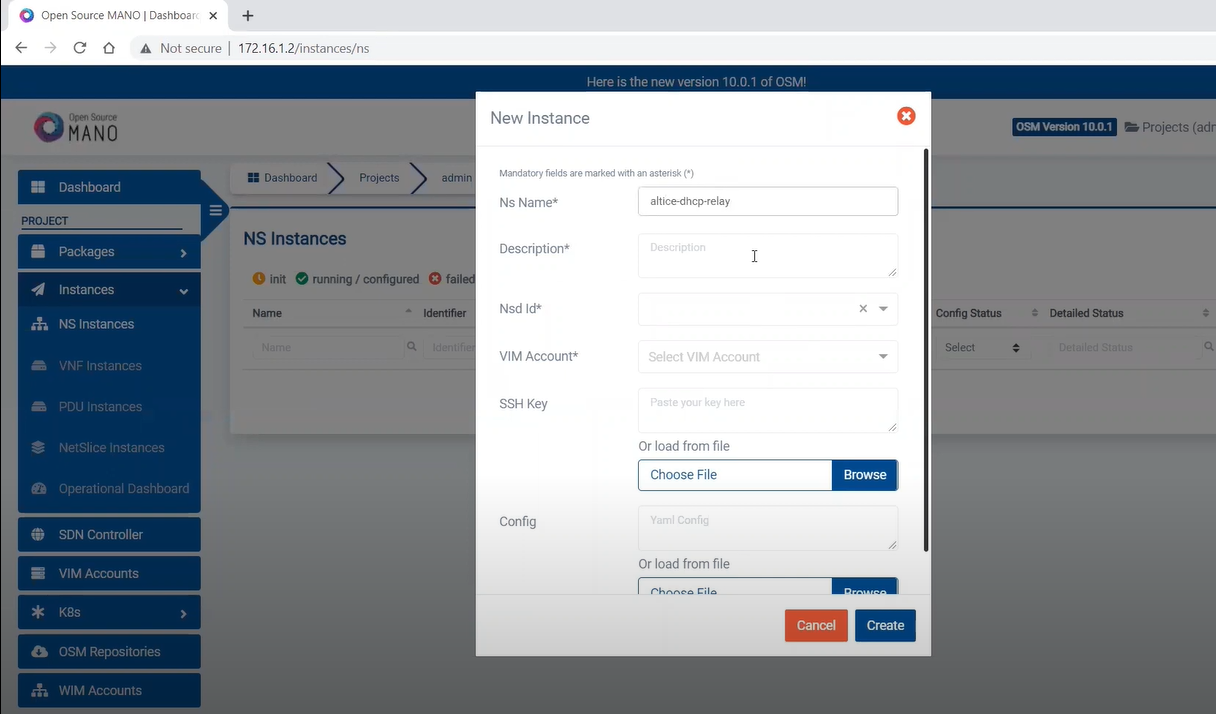 OSM - VNF Instance Creation. Image courtesy of Broadband Forum
Both orchestrators are synchronized therefore both instances were instantiated across OSM in IOL and ONAP in EANTC.
Demonstration, Service Request and Activation | 2021 CloudCO
The demonstration continued with presenting a live session with modeled subscriber choosing and enabling 1Gb HSIA service and how the CloudCO framework reacts with service request and service activation.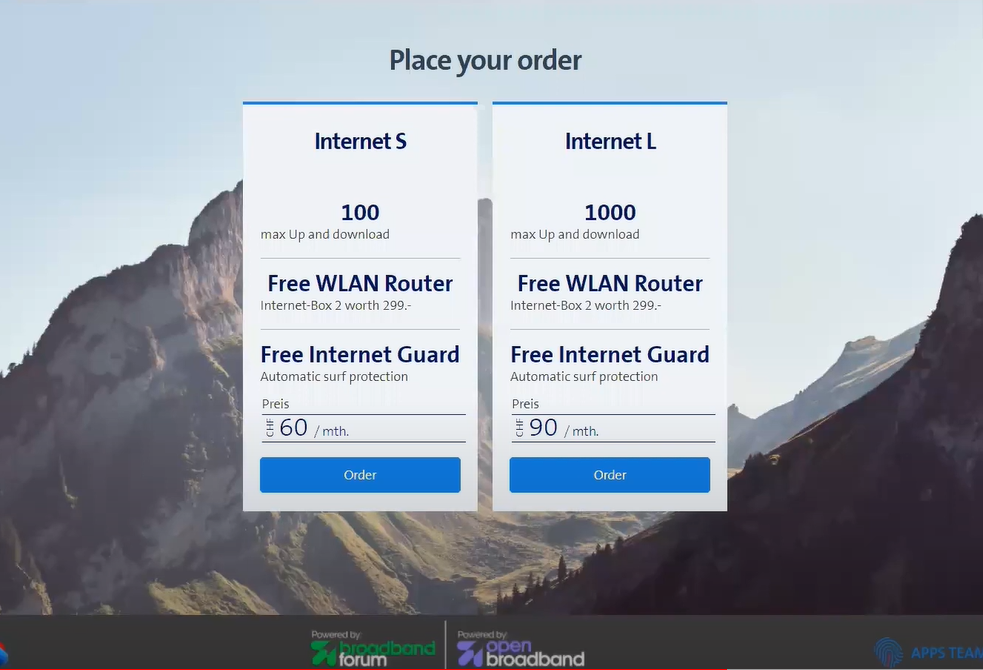 Service Activation - customer portal provided by ONAP and Swisscom. Image courtesy of Broadband Forum
The full process of service request and activation involved five steps:
Selection of HSIA service with various features and devices as part of the service offer.
Service activation by subscriber when connecting the received devices
Establishment of 1Gb service connection from subscriber's home to the service provider's wall garden
Authentication of the subscriber's residential gateway
Activation, system triggered the connection of the subscriber's HSIA service to the internet drain. The highlight of CloudCO service request and service activation was flexibility in provisioning DHCP relay, 3 ways were shown during the demonstration:
OB-BAA as a control plane relay between the OLT and the DHCP relay VNF. The DHCP interactions happen directly between the DHCP relay VNF and the DHCP server.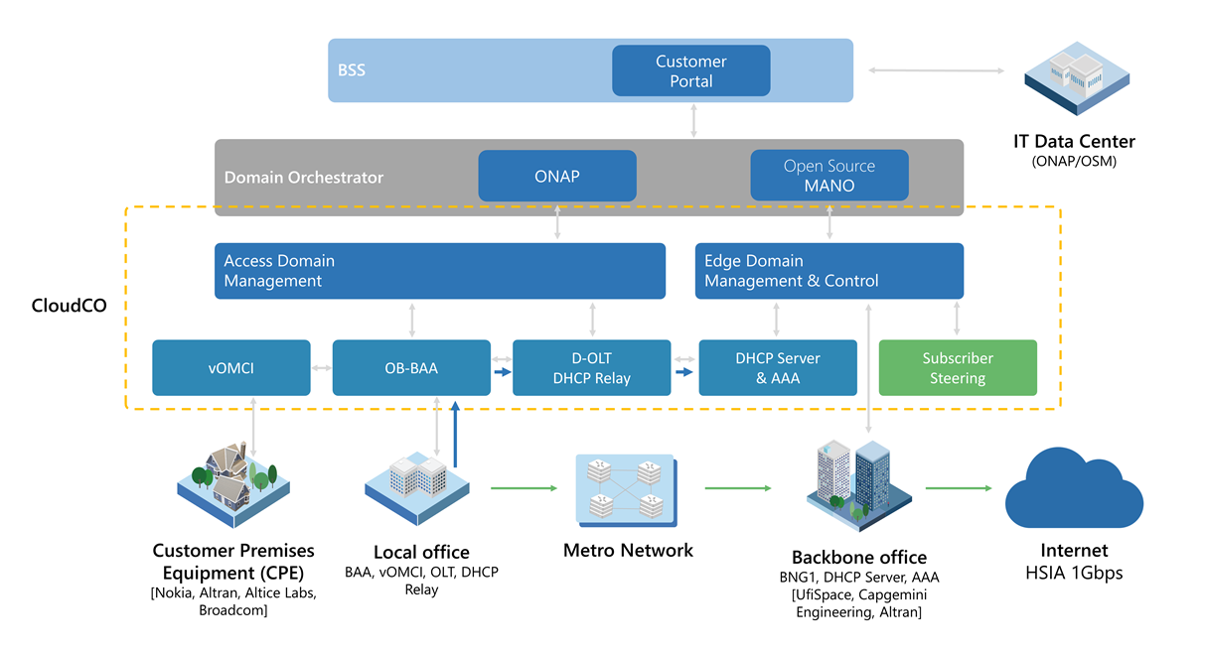 DHCP is hosted within the OLT. DHCP control plane flow uses the HSIA user plane to the BNG, which forwards the flow to the DHCP server.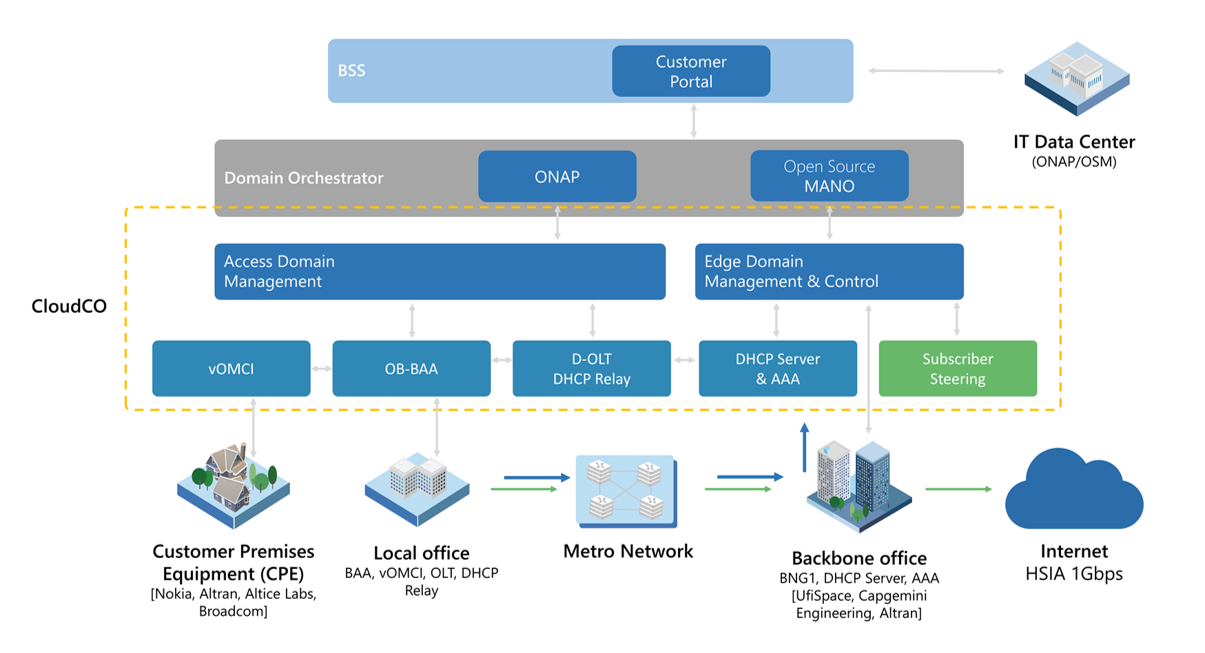 DHCP relay vNet uses the OLT's user plane to interact with DHCP server. DHCP relay control plane flow was redirected to BAA layer toward the DHCP relay VNF, but the DHCP relay VNF continued to use the traditional control plane between the OLT, the BNG, and the DHCP server for interaction with the DHCP server.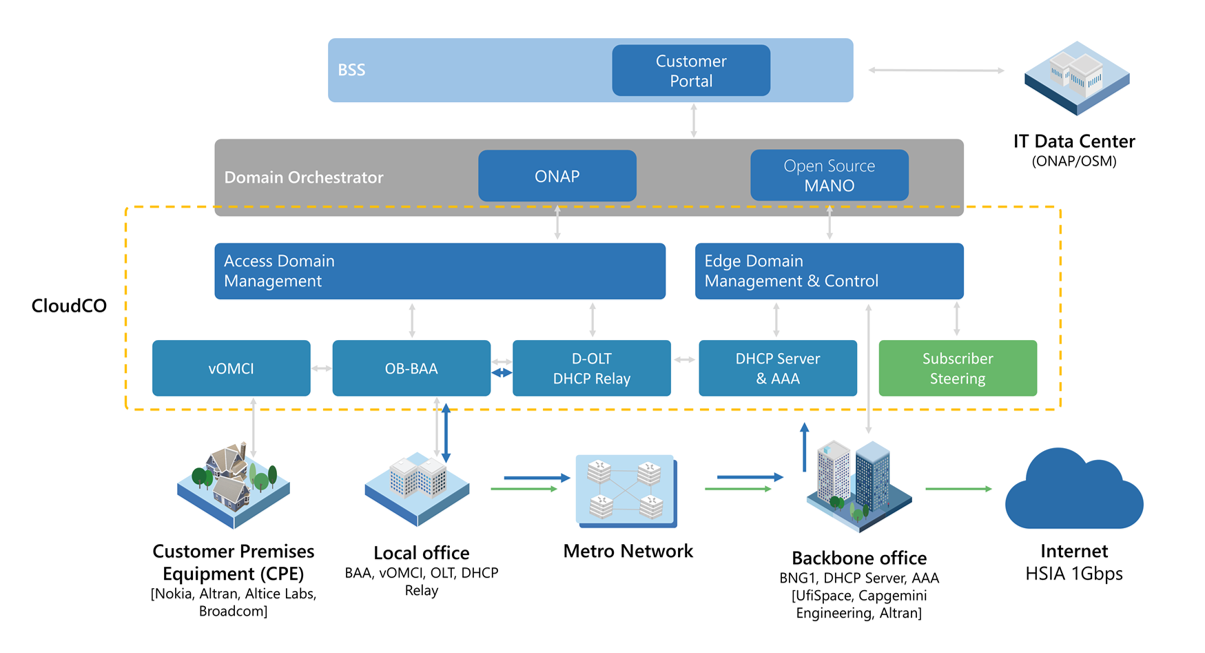 The various options for DHCP relay provisioning provide operators with flexibility for migration to a separation of functionality within the OLTs control plane and user plane, and allow coexistence with elements that use existing methods within the OLT.
Demonstration, Gaming Context Session Steering | 2021 CloudCO
At last, the demonstration has presented automated subscriber steering during gaming session. The broadband forum steering session architecture is embodied in Working Text 474 (WT-474). The process involved 4 steps:
Step 1. Start of Gaming Session
End user traffic comes to one of the OLTs. HSIA service is provisioned through centralized BNG (BNG1). The type of the session is detected by the network using rules that have been programmed into the BNG's user and control plane.
The Client IP Address 192.168.208.51 is recorded in BNG1. VLAN 400 used.
The session latency measured through BNG1 is 22.654 ms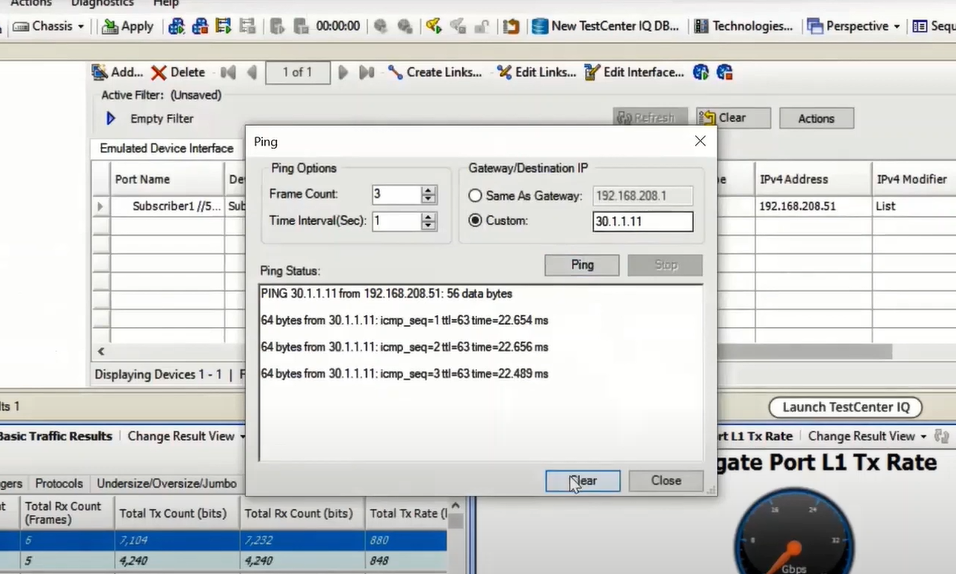 Subscriber steering session latency measurement (1). Image courtesy of Broadband Forum
Step 2. Subscriber steering function determines that the session will be better serviced by BNG at access location (BNG2)
BNG control plane interacts with subscriber steering function to assess if network meets the service level agreement (SLA)
Subscriber steering function assesses if BNG located closer to subscriber premises would better meet the SLA needed for the gaming session.
Step 3. Subscriber steering function requests a traffic steering function to switch the subscriber to new BNG (BNG2)
Subscriber steering function sends notifications to the edge SDN, access SDN and to OLT to reconfigure subscriber's session connectivity toward the new BNG (BNG2) user plane at the access node in central office.
Step 4. OLT redirects traffic to BNG2
Subscriber is switched to new BNG (BNG2) user plane, improving the latency of the session.
Session was not interrupted. IP remained the same, VLAN changed to 410
The session latency measured through BNG2 is 0.368 ms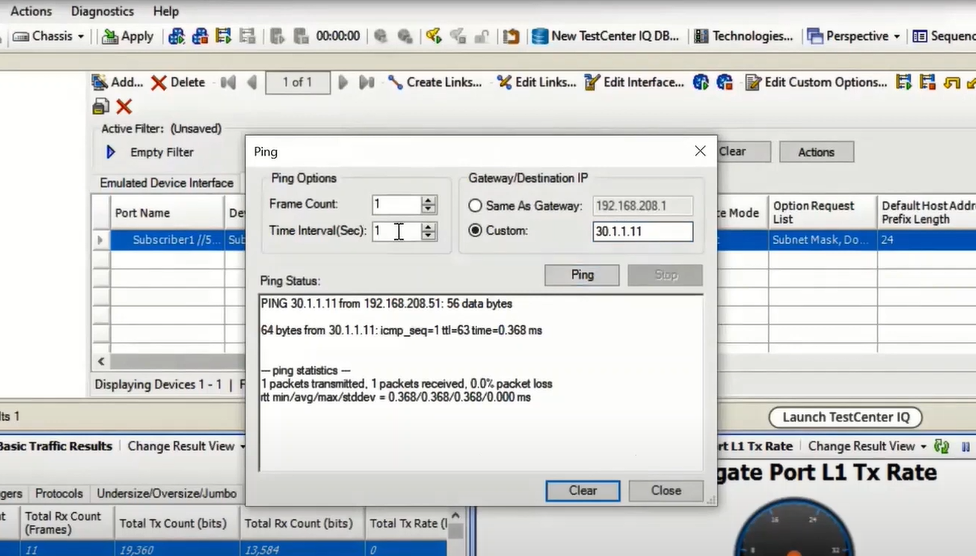 Subscriber steering session latency measurement (2). Image courtesy of Broadband Forum
Session steering is key to service providers to automatically program the path of single and multiple sessions of users traffic across the edge, access domains and through the transport network.
Highlights of session steering:
Provisioning of new and competitive service offers.
Seamless and timely actuation of assurance actions.
Anticipation of network congestions by network traffic balancing.
Online node upgrades and maintenance.
The automatic and orchestrated actions across multiple access domains will get telco operators beyond so-called dumb connectivity, offer advanced monitoring and flexibility in service provisioning.
To view full demonstration of the Broadband Forum CloudCO framework, click here .
Have questions about our open broadband network gateway solutions? Contact our sales team for more information.