Transport Network Solutions for Private 5G
Private 5G opens new opportunities for service providers to expand their service offerings to their customers by delivering higher bandwidth, more mobility, and lower latency to a greater amount of connected devices compared to that of private 4G. To maximize the efficiency of service deployments, a robust transport network with enough flexibility and serviceability is needed to enable the multitude of 5G applications. UfiSpace's Private 5G network solution provides the bandwidth, latency and features needed to build flexible private 5G transport networks suitable for any application.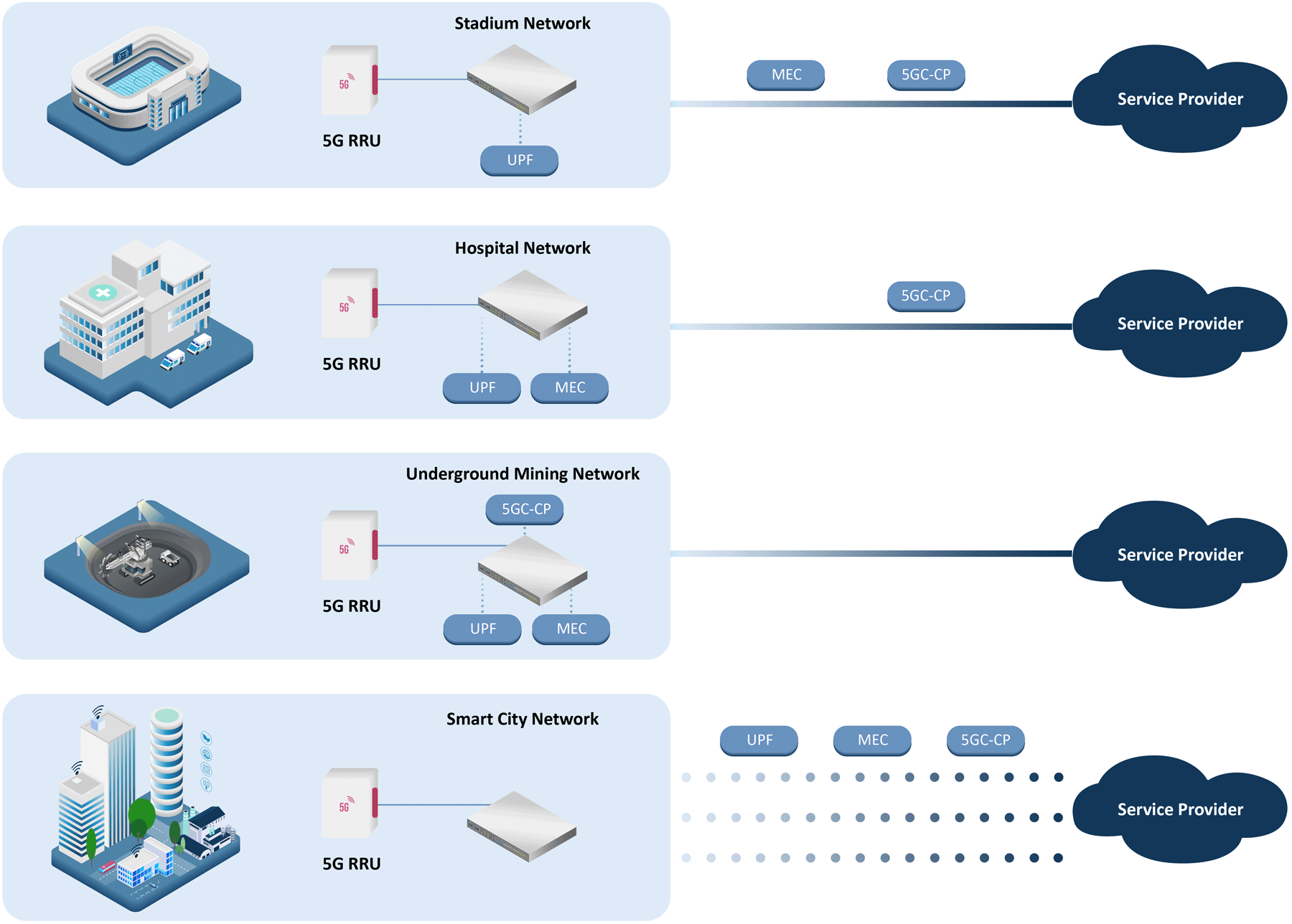 Versatility for Any Private 5G Application
Private 5G can be applied into every industry with limitless potential for use cases. From free-roaming stadiums to strictly controlled environments like hospitals and industrial mining sites, every use case will have different requirements that affect how the private 5G architecture will be deployed. UfiSpace's S9500 Series of open access routers allow service providers to build transport networks that provide more flexibility for the placement of UPF, MEC and 5G-CP functions that will be crucial for a versatile private 5G network. Our access routers are temperature hardened so they can withstand the harsh environments in outside plants and support features like MACSec, FlexE, TSN and Class C timing accuracy to enable secure, time-sensitive and low latency services. Our access routers are designed with the capacity to fulfill the needs of any private 5G architecture and application.
S9500 Series Options for Private 5G
UfiSpace's S9500s Series includes several models to enable various private 5G network deployments. Our flagship models are built to provide high density 25/100G ports to accommodate heavy traffic within large private networks. Our S9501 models are lightweight, medium-scale routers with 1/10G support for private networks with less traffic. For indoor applications, our fanless S9502 models are silent and provide the most economic value for small scale deployments. Applications that require network slicing to further allocate bandwidth efficiently can utilize our S9510 models.