[英文] The Need for a Flexible Data Center Interconnect
2022/02/28
by Will Chang


As the world progresses towards more convenience, efficiency and entertainment, so does the demand for data intensifies. The paradigm shift towards emerging technologies such as AI, autonomous driving and the hybrid cloud; mixed with the explosive demands of high quality video streaming and gaming is gradually changing the topology of data centers and its service providers.
The Push for More Flexibility and Capacity
The continuous growth of data use is pushing hyperscale data centers to increase capacity more efficiently by replacing power hungry equipment with that are more compact, energy efficient with higher port counts.

In order to improve service quality, Cloud Service Providers or Content Service Providers are also pushing the data center closer to their users in order to provide low latency services and reduce the amount of data on the backend network.

Enterprises are also adopting more cloud services by migrating their data centers off premises and into the cloud. Depending on the size of the enterprise, they might choose different models such as public, private or hybrid cloud.

What may emerge from these trends is a need to satisfy various service demands, thus introducing different types and scales of data centers in the far edge, regional edge and central locations. The Data Center Interconnect (DCI) will be crucial for connecting those data centers to perform data exchange, information backup and workload distribution.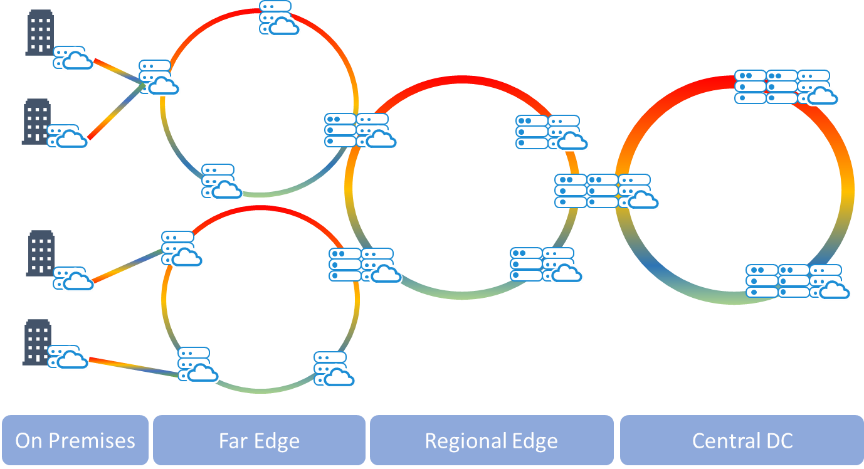 Various Data Center Interconnects needed throughout network topology
The Challenges of Today's DCI Network
Here are three of the major challenges data center operators are facing when deploying interconnecting their data centers:
The demand for different scales and capacities from the various types of data centers increase the complexity of the data center interconnect. Local data center requires lower capacity while hyperscalers may consume hundreds of terabits. The traditional approach will be allocating different types of chassis in each data center to meet capacity requirements. However, this increases inventory and management costs.
Security is a big concern when more and more enterprises host services on the cloud. Sensitive data running over a wired medium, although assumed to be more secure than wireless, can still fall victim to data theft.
Service providers are always looking for a more efficient and cost efficient solution to build their data center interconnect network. Traditionally, the DCI network utilizes DWDM to carry high volumes of data and use extra transponders to convert short reach optical signals into DWDM signals. The solution is generally proprietary and requires a large amount of space.
A Cost Efficient Data Center Interconnect Solution
UfiSpace offers several data center interconnect options that allow data centers to meet different capacities utilizing a cost efficient distributed disaggregated chassis (DDC) architecture. The DDC is a proven solution running in the busiest edge and core networks in the world. With its flexible and reliable design, the DDC platform could be positioned as aggregation router, edge router and core router. The joining of S9710-76D further extend the application to a higher scale scenario such as DCI or datacenter Core and complete the last piece of transport network.

DCI switches include a high density 100G, low density 400G, and a high density 400G options.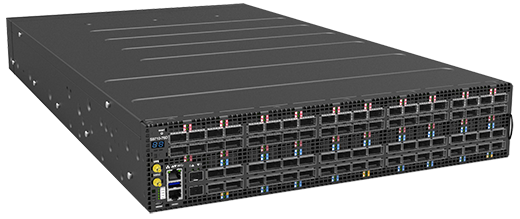 UfiSpace S9710-76D High Density 400G Switch
UfiSpace's S9710-76D is the newest member of our disaggregated open router family with high density, 36x400GE service ports. As a standalone it offers 14.4Tb service capacity and is interoperable with our S9700 series switches to build a routing cluster of up to 691Tb. The S9710-76D comes with additional MACsec and OpenZR+ features that can meet higher DCI requirements for security and efficiency.
Flexible Configuration
The DDC architecture offers flexibility and scalability to unify the transport network with single platform avoiding the complex inventory and management to fulfill the versatile deployment requirement.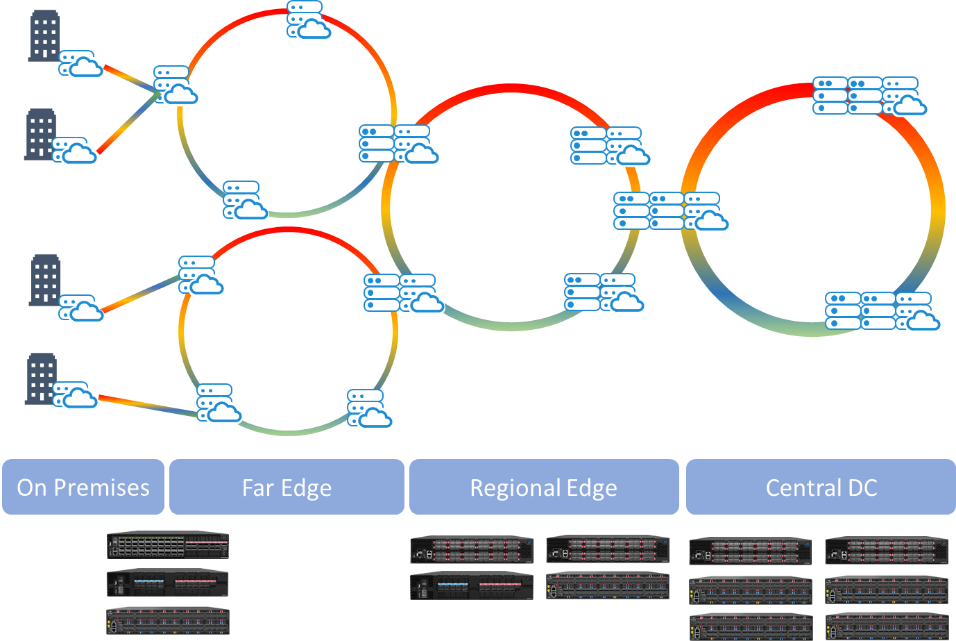 S9700 Series for various DCI network connection
Secure Connection
Data encryption is the best solution to avoid data breach, with a layer 2 encryption at the line rate as the preferred approach. MACsec is supported on all the service ports of the S9710-76D, which enables secure layer 2 transport while providing lower latencies and higher throughput versus a software based encryption mechanism such as IPsec.
Cost Efficient Topology
The next generation for an open, flexible and interoperable DCI network will need the support of OpenZR+. This combines two industrial standards, OpenROADM and 400ZR, with coherent technology in a pluggable small form factor supporting 100G to 400G data rates and reach beyond 120Km. It can simplify the DCI network's configuration by merging routing and optical transporting functions into a single router, which can greatly improve the port density, space utilization and power efficiency.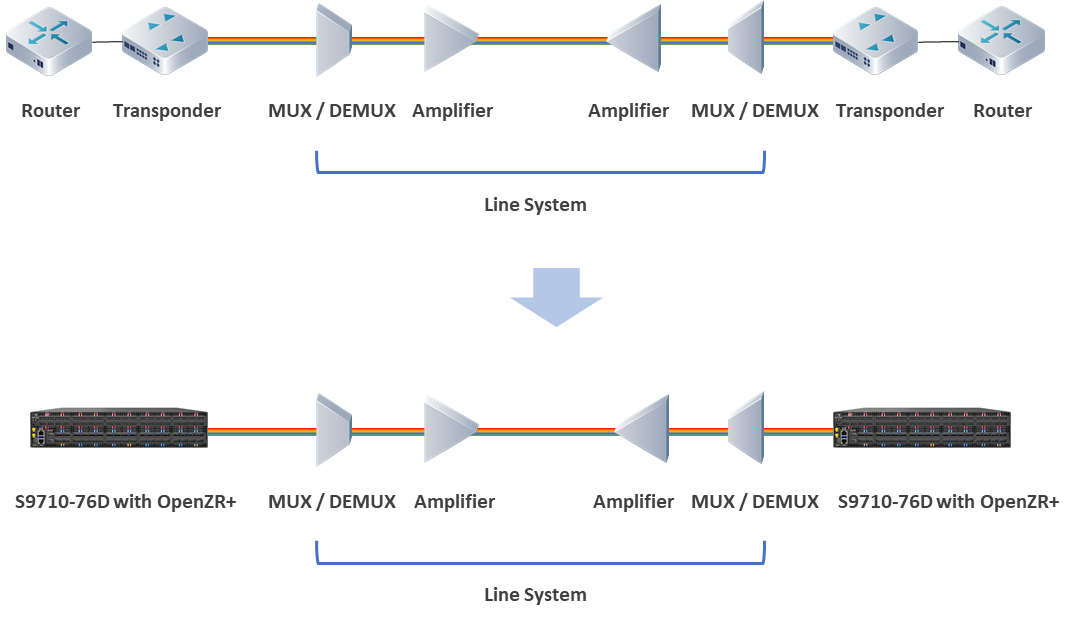 Network topology with and without OpenZR+
For more information about our how our S9700 Series can be implemented as a Data Center Interconnect, please contact our sales team.