[英文] Hardware and Software Feature Requirements of Open BNG
2021/08/19
by Will Chang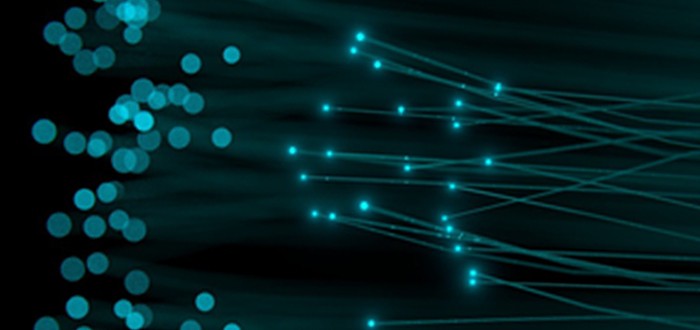 Open BNG can benefit the broadband network operator in many ways. It updates the network by allowing new features and services to be delivered to their customers. It provides operators with an ecosystem of new suppliers, a breath of fresh after years of vendor consolidations. Open BNG also provides broadband network operators with the freedom to pick and choose the hardware functions paired with the software features that they need.

Telecom Infra Project's (TIP) Open BNG specifications cover three types of Open BNG deployments that covers a wide range of applications from the access edge all the way to the core. In this article we're taking a closer look at the hardware and software feature requirements of the "full functionality and maximum distributed" type of Open BNG, that's covered by TIP.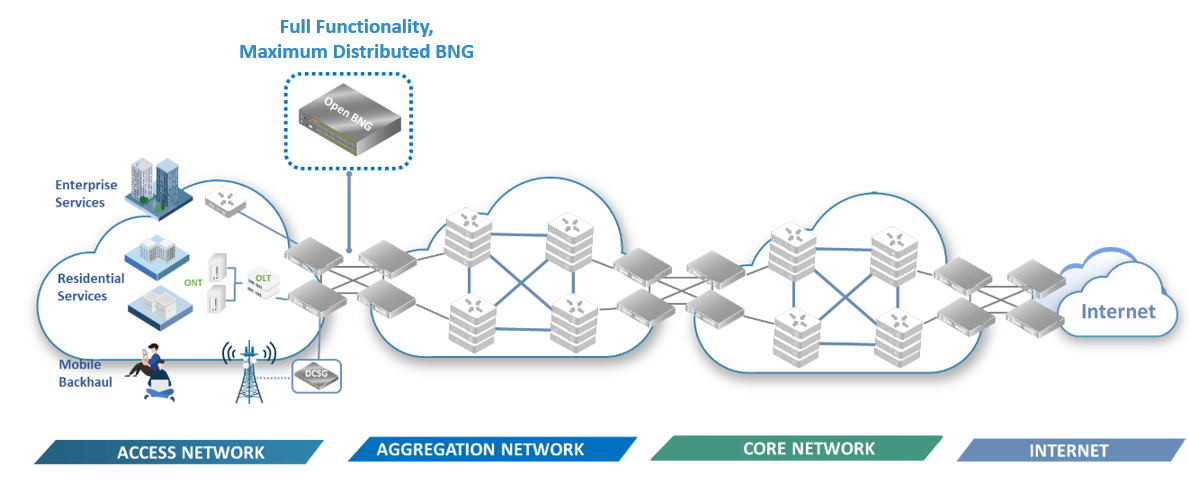 Deployment Position of Open BNG
Hardware Requirements of Open BNG
The full functionality, maximum distributed BNG is the type of BNG positioned nearest to the edge of the network. It needs to connect to access nodes from various traffic and technology types such as connecting to CPE devices for enterprise traffic and OLT devices for residential traffic.

Additionally, this type of BNG will at times function as a mobile backhaul, or more generically mobile xHaul, to aggregate cell site traffic. This adds another complexity to the BNG because as part of the mobile backhaul, it will need to adhere to more stringent timing requirements for 5G services.

Of course, when it comes to mobile backhaul, it's not only 5G we need to be concerned about. The majority of use cases would most likely be in brownfield, where there's 2G/3G/4G as well, so the timing features for this Open BNG type needs to include:
• ITU-T G.8275.1 for full timing support
• ITU-T G.8275.2 for partial timing support
• SyncE as per ITU-T G.8261, G.8262 and G.8264
• ITU-T G8271.1 for time and phase error requirements with full timing support
• ITU-T G8271.2 for time and phase error requirements with partial timing support
• ITU-G G8273.2 for T-BC and T-TSC performance requirements with full timing support
• ITU-G G8273.4 for T-BC and T-TSC performance requirements with partial timing support

Software Features Requirement of Open BNG
The software features for the full functionality, maximum distributed Open BNG would be somewhat more complex than the hardware, mainly because it's encompassing three types of functions: subscriber management, routing capabilities, and provider edge for enterprise services.

In this article we will only introduce some of the high level requirements for one type of Open BNG, Capgemini Engineering will provide details for all three types mentioned within TIP's technical requirements. Capgemini's BNG NOS fully supports all those deployment options and the corresponding features needed.

Subscriber Management
Subscriber management is the main function of the broadband network gateway and thus a key requirement of Open BNG. Before a user, or subscriber, can access the internet, they must be identified in order to gather their access rights, billing and other relevant information so that networks can determine which services the user can access.

Subscriber management has become more complex for broadband networks as many subscriber services nowadays are bundled together called triple play (voice, video, data) or even multi-plays (multimedia, multiservice, multiaccess, multiplatform). The broadband network gateway needs to be able to provision and manage subscribers within such a complex environment.

Specified in TIP's Open BNG specification, the subscriber management requirements follow several Technical Reports from the Broadband Forum including:
• TR-101 Issue 2 (2011) – Migration to Ethernet-Based Broadband Aggregation
• TR-059 (2003): DSL Evolution - Architecture Requirements for the Support of QoS-Enabled IP Services
• TR-092 (2004): Broadband Remote Access Server (BRAS) Requirements Document
• TR-146 (2013): Subscriber Sessions

For Open BNG, the main access technology will be Ethernet, however TIP is also evaluating support for legacy ATM technologies.

Routing Capabilities
Since this type of Open BNG has the likelihood of operating as mobile backhaul and provider edge, both routing protocols would also be considered as part of the software requirements.

The Open BNG should support for IPv6 as the main requirement. In the case where IPv4 is included, dual stack would be needed.

MPLS is mandatory while Segment Routing shall be supported with plan if it is not available now. The high level routing protocol requirements are:
• Static routing
• IS-IS, including extensions for Traffic Engineering
• OSPFv2/v3, including extensions for Traffic Engineering
• BGP-4, including multiprotocol extensions

Provider Edge
The requirements for provider edge functions of the Open BNG will include L2 and L3 VPN services. For L2VPN, the Open BNG should be MEF 2.0/3.0 compliant in regards to E-LAN and E-LINE services with additional support for redundancy mechanisms, loop detection, OAM and IGMP snooping. For L3VPN, it needs to support L3VPN over multi-AS backbones with full-mesh and Hub & Spoke models of BGP/MPLS L3VPN supporting IPv4 and IPv6.

Open Aggregation Router for Open BNG
UfiSpace's S9600-72XC is an open aggregation router with the capability of functioning as an Open BNG. It provides the optimum hardware features with the ease of software development to enable the best of breed Open BNG for the broadband network.
The S9600-72XC open aggregation router comes with 64x1/10/25GE ports to allow multiple access connections and 8x40/100GE for backhaul. For legacy and 5G time synchronization, its timing interfaces include 10MHz, 1PPS and Time of Day (ToD). As an additional benefit for 5G timing accuracy, the S9600-72XC can function as a T-GM (Grandmaster Clock) using it's GNSS interface for satellite antenna connection. The S9600-72XC can further extend capabilities for Open BNG features development by adding an optional external TCAM.