[英文] DCSG 蜂巢基地台回傳路由器成功案例
2021/05/07
by Will Chang


The Disaggregated Cell Site Gateway (DCSG) has been a solution for many network operators when it comes to increasing the value of their network architecture through open disaggregation. In our case study with Asia Pacific Telecom we explore reasons, challenges, solutions and benefits they got from implementing UfiSpace's DCSG as part of their 5G enterprise network.
Crash Course: Disaggregated Cell Site Gateway
Those who are part of the telecom open networking industry will very likely already know about the Disaggregated Cell Site Gateway (DCSG). For those who are new or haven't heard of what a DCSG is, here's the crash course.

The disaggregated cell site gateway is an access network router for aggregating mobile traffic, which utilizes white box hardware capable of running interchangeable open network software. This decoupling of hardware and software brings a new paradigm to telecom network architectures.

The DCSG's first live traffic use case was as a cell site gateway router to aggregate 4G and 5G mobile data and backhaul back to the core. Due to the flexibility of solutions development brought forth by open disaggregation, the use cases for DCSG have, since its launch, branched out into many different applications such as radio-aware microwave backhaul and private 5G networking.

In our case study, we explore how Asia Pacific Telecom implemented a 5G enterprise network using our S9500-30XS disaggregated cell site gateway.
Why start from the cell site?
So why start with disaggregating the cell site? There are actually many options out there such as disaggregated routers for the aggregation network and even disaggregated open routers for the edge and core networks.

Here are some of the reasons why network operators start network disaggregation from the cell site:
• Upgrade in sections, minimize impact for carrier's entire network architecture
• Traffic pattern is simpler than other parts of network
• Easy to start small with minimal investment
• Be ready to the stringent timing requirement of 5G RAN
• Prepare backhaul capacity for future traffic volume in advance
Introducing the S9500-30XS DCSG solution
The UfiSpace S9500-30XS is the industry's first DCSG to be deployed in a live network. It was deployed by a tier one telecom operator in North America. To date, there are tens of thousands already deployed all over the world.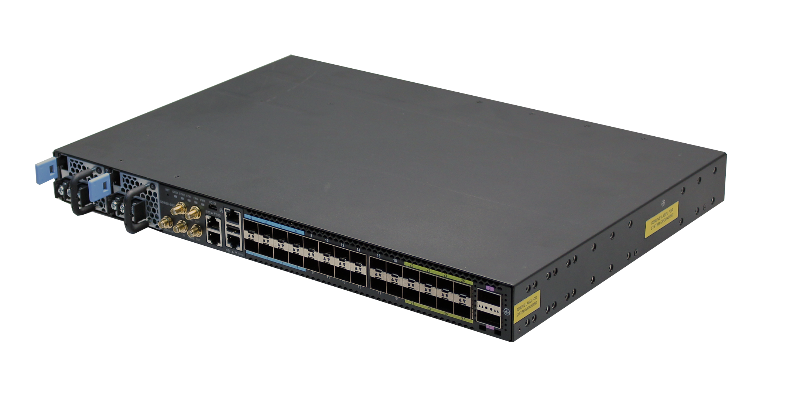 This project was also a collaboration amongst UfiSpace (S9500-30XS DCSG), IP Infusion (OcNOS), and FHNet (System Integration) to enable this solution for our customer. IP Infusion's OcNOS provided all the routing features needed to enable a smooth network integration of the new 5G network with the already established 4G network. FHNet was the systems integrator who provided the installation and as well as maintenance support.
Download our Case Study
Our case study with Asia Pacific Telecom is now available for download on our resources page.