2020 / 07 / 20
[英文] UfiSpace First to Contribute Disaggregated Open Routers Solution to TIP OOPT Project Group, Available on TIP Exchange!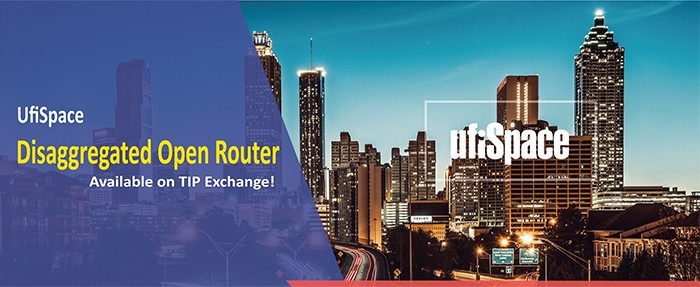 UfiSpace, the leading solution provider for next generation 5G disaggregated platforms, has announced today that they have contributed their Disaggregated Open Router (DOR) solution to the Telecom Infra Project (TIP) OOPT project group. With the recent launch of TIP's new initiative within the OOPT project group focused on the development of DOR, UfiSpace has taken the first of many steps to fulfill their commitment to the initiative by making their DOR details available on TIP's Exchange Marketplace.
The UfiSpace DOR solution decouples, or disaggregates, both the hardware and software components of a traditional proprietary chassis router into easy to manage, open network white box platforms. Instead of everything vendor locked within a single chassis, UfiSpace's DOR separates the line cards and fabric cards into compact "pizza boxes" called Network Cloud Processors (NCP) and Network Cloud Fabrics (NCF), which have their own power supplies and cooling. This way, the system capacity will no longer be limited by the physical size of the chassis or the backplane's electrical conductance. Telecoms will gain unlimited flexibility for how and when they want to scaled up their network's capacity and adopt a "pay-as-you-grow" model.
As part of the DOR contributions, UfiSpace has made available two NCPs and one NCF, which are IP/MPLS routers that can be deployed in the core and edge networks. The S9700-53DX is a 40x100GE service interface with 13x400GE fabric interface white box router and the S9700-23D is a 10x400GE service interface with 13x400GE interface. The NCF, S9705-48D has 48x400GE fabric interface ports and is used to couple together NCPs in a CLOS architecture.
For more information on UfiSpace's DOR contribution, please visit TIP's Exchange Marketplace .
Media Contact:
Nicole Chen
nicole.chen@ufispace.com