BACK TO LIST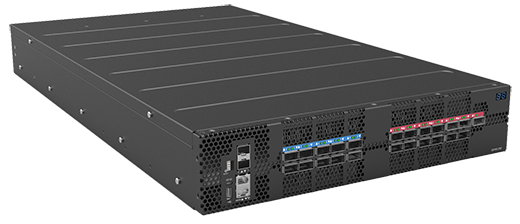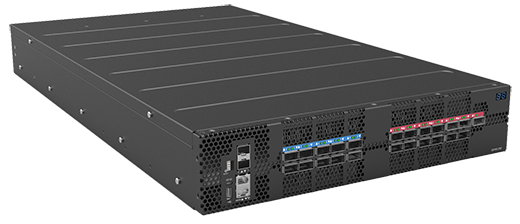 S9700-23D
Distributed Disaggregated Chassis Routing System
DDC "Line Card" white box
10 x 400GE QSFP-DD service ports
13 x 400GE QSFP-DD fabric ports
1 x RJ-45 + Micro USB serial console ports
1 x 1GBase-T Ethernet port for Out-of-Band management
1 x USB 2.0 Type-A general purpose port
2 x 10GBase-X SFP+ management ports
OVERVIEW
The S9700-23D is the best of breed robust, flexible and carrier-grade IP/MPLS"line card"white box router that can be deployed in the core or edge to transport services over a scalable next-gen Telecom network. Equipped with 10 x 400GE service and 13 x 400GE fabric ports, the S9700-23D is designed for the tidal wave of data that will come with 5G application services. It enables fault and performance monitoring, non-stop routing support for control and data plane, and comprehensive high-availability networks.

The S9700-23D can be positioned as standalone or coupled with the S9705-48D fabric white box router in small, medium, and large clusters enabling 4Tb to 192Tb switching capacity. By connecting to the S9705-48D (fabric white box), it scales out not only economically and rapidly, but it also brings down the total cost of ownership.

The S9700-23D adopts the innovated discrete Network Cloud Processor (NCP or line card white box) and Network Cloud Fabric (NCF or fabric white box) building blocks providing flexibility to core router needs in the industry, integral to Ethernet switching performance and intelligence to networks while minimizing the network complexity.
FEATURES
10 x 400GE QSFP-DD service ports
13 x 400GE QSFP-DD fabric ports
Service Ports support 4x100GE break-out
1 + 1 hot swappable PSU FRU
3 + 1 hot swappable Fan FRU
Micro USB and RJ-45 console port
8GB deep buffering and Intel Broadwell-DE 8 core at 2 GHz
64GB memory DDR4 RDIMM with ECC
SPECIFICATIONS
Physical
Processor
Intel® Broadwell-DE 8 core @ 2.0 GHZ
Memory
2 x 32GB DDR4 RDIMM with ECC support
Storage
2 x M.2 SATA SSD 128GB
ASIC
Broadcom BCM88690
Chassis
2RU, 436 x 762 x 87.6 mm | 17.17" x 30" x 3.45"
Weight: 23.9 kg (52.8 lbs)
FAN Trays
Hot swappable, 3+1 redundant FRU
Environmental
Power supply
Hot swappable, 1+1 redundant FRU
AC input: 200 ~ 240V, 12.5A, 60/50Hz
DC input: -40 ~ -72V, 60 ~ 33A
Max power: 2000 Watts
Operating Spec.
Operating temperature: 0°C to 45°C (32°F to 113°F)
Operating humidity: 5% to 85% (RH), non-condensing
Altitude: 1,829 mm (6,000 ft.)
Non-Operating Spec.
Storage temperature: –40°C to 70°C (–40°F to 158°F)
Storage humidity: 5% to 95% (RH), non-condensing